Various Pupil Comments - St Francis Xavier - July 2015
Langley Swimming Centre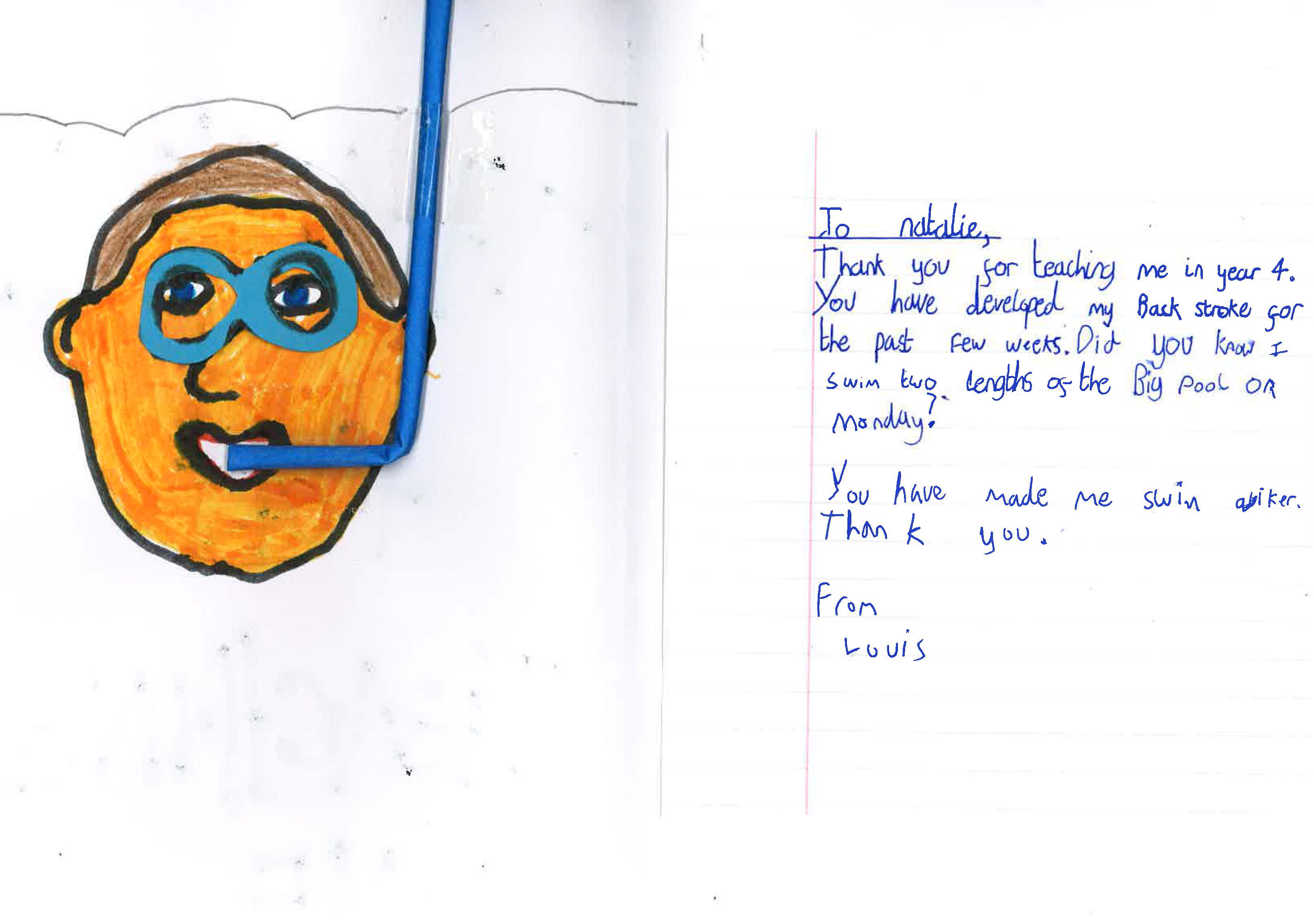 Thank you for teaching me in the swimming baths you are a great swimming teacher. I now know what I have to improve and I think I have improved.
Whenever I go swimming, I will remember the tips and things that you taught me. I wish you could teach me swimming everyday so I could get better and better every day.
I was not very good at backstroke but now my confidence has shot right the way up from the bottom to the top it is amazing.
Now I am so good at both my front and backstroke I would never ever be better than what I am now. Because of you I am getting all of these awards and medals.
I thank you so so so so so much for your patience and support.
I just wanted to say a massive thanks for your support and patience. You've been the best swimming teacher I've had (better than Brian) I'll never forget you!
I'll always use your techniques you've taught me for the past year. If I'm ever in a river or lake, I will never start to drown because of you, so thanks. I hope you like your job because it looks like you do.
It must have been hard to teach me but hopefully it's not hard anymore!
Thanks again- I'll always recommend you to all my friends that need help with swimming.
Thank you for teaching me in Year 4. You have developed my back stroke for the past few weeks. Did you know I swim two lengths of the big pool on Monday? You have made me swim quicker. Thank you.
I just wanted to give a massive thank you to you Donna for all the time and hard work you have put into our Tuesday swimming lessons. When I started to swim I literally couldn't do the backstroke but having you as my swimming teacher I now can do all those things. We have had a great laugh when Kye purposely splashed you with water and your tan lotion comes off when he goes underneath the water. I'll never forget your bubbly personality.
I know I must've been a pain to teach because I just wasn't getting the back stroke. I always look forward to your amazing, funny, brilliant swimming lessons. Well, because of you, now I know how to save my life or someone else's in water from your water safety lesson. I do appreciate every lesson you've taught me.
Take a look at more
thank you cards
from St Francis Xavier School pupils to swimming instructors Donna & Natalie...