Community Sessions in Sandwell
SLT deliver a wide range of classes and activities in your local community including ZUMBA, circuits, football, rounders, tennis and lots more.
Download our useful documents:
Sandwell Parks Flyer
Mum and baby flyer
Mini kickers flyer
Sling swing/beanie boppers flyer
Park Tennis Sessions at Brunswick Park and Redhouse Park
SLT community reward scheme card
Come along and join in as many of these sessions as you like! Make sure you register for our community reward scheme and get your card – once you have attended ten sessions this card can be converted into a guest pass which can be used at all of our leisure centres throughout Sandwell. This pass will give you the choice of:
Free swim
Gym session*
Fitness class*
Coached tennis session
Coached football session.
If you are registering on behalf of a child or young person please be aware:
Under 8's MUST be accompanied at all times
8-11yr olds should be accompanied but can be dropped off and collected
12yr olds plus can attend the sessions independently
Gym and fitness classes are for ages 14yrs +
Contact us
To take part just turn up at your chosen venue no need to book.
For more information contact the Sport and Physical Activity Team on 0121 506 4980.
Club Sport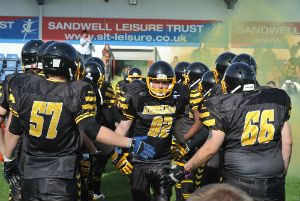 One of our aims is to increase participation and positively contribute to health and well-being. One of the ways we do this is by helping to develop sustainable clubs and programmes in the community.
The team are on hand to support any local sports club that offer sports participation for Sandwell residents.
We are also an active part of the Sandwell Sports Club Partnership, which is the locally recognised forum for voluntary sports clubs.
We have experience of club development and can support emerging clubs to become constituted or support the development of funding applications.
Case Study: Sandwell Steelers
The Sandwell Steelers is a new American football club based in the area.
The team assisted in a successful grant application which supported the initial set up of the club.
Through targeted advertising and PR, including linked school taster sessions across the area and training PE teachers, the team is now set up and developing well.

Select an activity or leisure centre