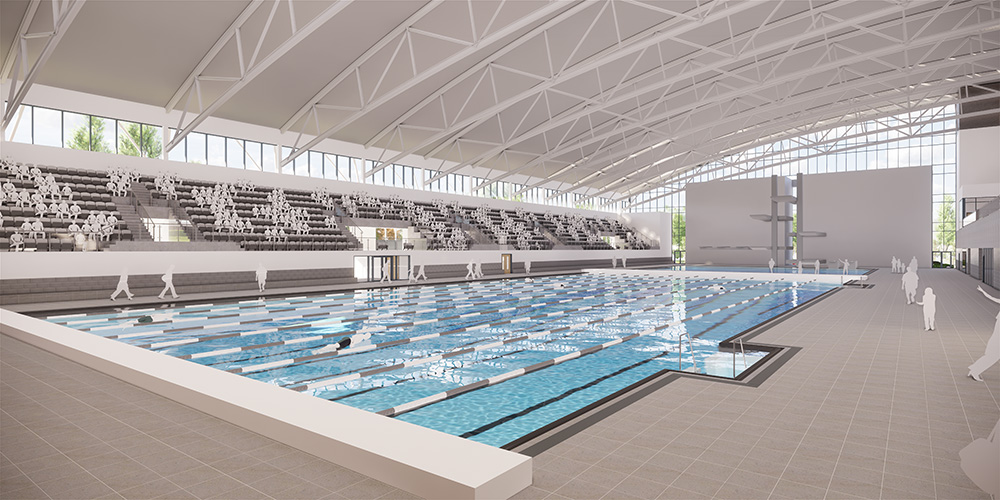 Work is now under way on the new Sandwell Aquatics Centre in Smethwick which will host the diving and swimming events for the Birmingham 2022 Commonwealth Games putting Sandwell on the map.
Work on the £73 million project is set to be completed in spring 2022 and handed over to the Birmingham to host the Commonwealth Games.
The building will be officially open for use by the public in May 2023.
The new centre will bring a host of great benefits to Sandwell by creating local jobs and investment in the community through the businesses supplying goods and services.
The state-of-the-art facility will create a lasting legacy for community health and wellbeing.
SMBC and SLT are currently engaging with partners, schools, clubs how this fantastic new facility can improve access to aquatic sport for Sandwell residents.
Other facilities at the aquatics centre will include:
· Olympic size 50m swimming pool.
· 10m diving boards.
· 1,000 spectators
· Studio Pool.
· Three activity studios;
· Two 4-court sports hall;
· 108-station gym;
· 25-station ladies-only gym;
· Indoor cycling studio;
· Dry driving centre
· Sauna/steam room
· New grass football pitch and changing facilities
· New urban park and children's play area; and a
· Cafe
The centre will also be used by University of Wolverhampton students for teaching and will become a home venue for representatives of the University through WLV Sports. Read more here.
We expect construction work to start in summer 2019.
We are proud to be working with Sandwell Council to deliver this exciting project. Click here for further information
Please click here to read some of our related news stories.
If you'd like enquire about tickets to the Birmingham 2022 Commonwealth Games you can register your interest here.

Select an activity or leisure centre