Sandwell Council is developing a new facility in Oldbury called Portway Lifestyle Centre. The former Oldbury Leisure Centre, that was in much need of repair and investment, located on Newbury lane, was demolished to make way for this new centre back in December 2010.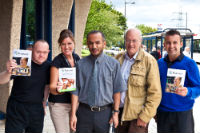 Portway Lifestyle Centre is an integrated Social Care, Leisure and Well Being facility providing leisure activities for people with disabilities and the wider community.
Sandwell Council, in partnership with Sandwell Leisure Trust, Sandwell Primary Care Trust and the Sandwell Local Improvement Finance Trust (LIFT) Company, has developed a 'reference group'.
The reference group is made up of people with disabilities, carers, patients, and members of the community with an interest in health, social care and leisure services. The group has been working with the Portway Lifestyle Centre project team and the architect to advise on access to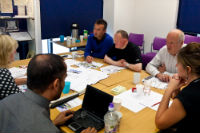 the new centre, and help to make it a place that is welcoming to all. The reference group also advocates for the wider community. Feedback from the meetings and actions that have been taken can be also be viewed through links at the end of this page.
In addition to this group, people can make comments through the virtual reference group.
What is the virtual reference group?
The virtual reference group will be a way for people to access up to date information about Portway Lifestyle Centre, and learn more about this exciting new development.
We know not everyone will want, or have the time, to take an active role in how the new centre will look, or the activities it will offer. However, we want to make sure everyone with an interest receives regular updates through the website, the council newspaper 'the Sandwell Herald' and other local news channels.
Being part of the virtual reference group is a great way to stay engaged with us, right up until the new building is in use! It also offers a way of dipping in and out of activities, finding out about our information events and expressing your views from time to time.
Get involved, ask questions and have your say
Please note, as we are now looking at work in more detail, a summary of meeting discussions will now be available upon the website, and more detailed notes sent out to reference group members.
Select an activity or leisure centre