Tipton Sports Academy
About Us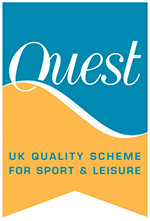 The friendly Staff at Tipton sports academy are on hand to welcome you to our facilities, it is Managed by Sandwell Leisure Trust on behalf of Sandwell Council. The modern gym and group fitness studio at Tipton Sports Academy is a popular choice for many. The exciting variety of classes ensure that your fitness goals can be achieved. We offer a variety of racket sports including indoor tennis, badminton and squash, with special offers available to ONE Card members at selected times. We also offer access to our running track as well as availability in block booking for sports hall hire, indoor and outdoor 5 aside football.

Tipton Sports Academy is Quest accredited as well as Track Mark accredited. Visit our awards and accreditations page for more information on Quest.
Tennis
Tipton Sports Academy offers excellent indoor tennis facilities. Tennis in Sandwell is among the most affordable in the Midlands area, this quality facility also plays host to a number of major tennis tournaments. As well as offering a Tennis development programme for all ages.

Tipton Harriers
Tipton Sports Academy is the proud home to Tipton Harriers Athletic club. You can find more details at www.tiptonharriers.co.uk
Tipton Town FC
Tipton Sports Academy is the proud home to Tipton Town Football Club. For more information and fixture details visit www.tiptontown.com
Roller Disco
Every Saturday get your skates on for Tipton Sports Academy's Roller disco. Skates available for hire, contact the centre for latest pricing information. Sessions available;
Family Skate : 17:00-18:15
Open Skate : 18:30-19:45
HAF: Holiday Activity and Food at Tipton Sports Academy
Our holiday camps at Tipton Sports Academy are designed to help your kids (ages 8 to 16) get active through sports and games, allow children to try out new, exciting activities, learn about nutrition and healthy eating and have an all-around fun-filled experience. On behalf of Sandwell council funded by the Department of Education. For more information on Sandwell Councils HAF programme or to book please visit https://holidayactivities.sandwell.gov.uk/
Get your party skates on at Tipton Sports Academy!
Enjoy a fun-filled roller disco party perfect for birthday parties, hen parties, social events & special occasions.
Includes 1 hour in the sports hall and 1 hour in the Self-catered party room. Skates and DJ included. Contact site for availability and up to date pricing.
Activities at Tipton Sports Academy
Facilities
Gym
Dance / Fitness Studio
Fitness Class Programme
6 Indoor Tennis Courts
Eight lane Track Mark accredited Athletics Track
Badminton
Squash Court
Roller Disco
2 11-a-side Grass Football Pitches
Our fitness gym has the very latest fitness and exercise equipment and a selection of dumbbell weights.
The centre also provides a range of sports facilities for casual use and regular hire including badminton, squash, full size football pitch and athletics track and stadium.
Timetables
Timetables may be affected by Bank Holidays and other occasions, so you can also view the up-to-date fitness timetables for the next few weeks on SLT's Timetables page.

Follow us on Facebook for all the latest information.
Air Mayhem
Tipton Sports Academy Is the home to Sandwell's first indoor inflatable Park. With 8 amazing fun packed activity Zones for you to bounce, slide and jump around. Our on site café offers a selection of hot drinks, cakes, ice creams and slushies. Suitable for all ages and fun for the whole family as well as group discounts and Party zones available. Visit www.airmayhem.co.uk for more information on operational times and to book online.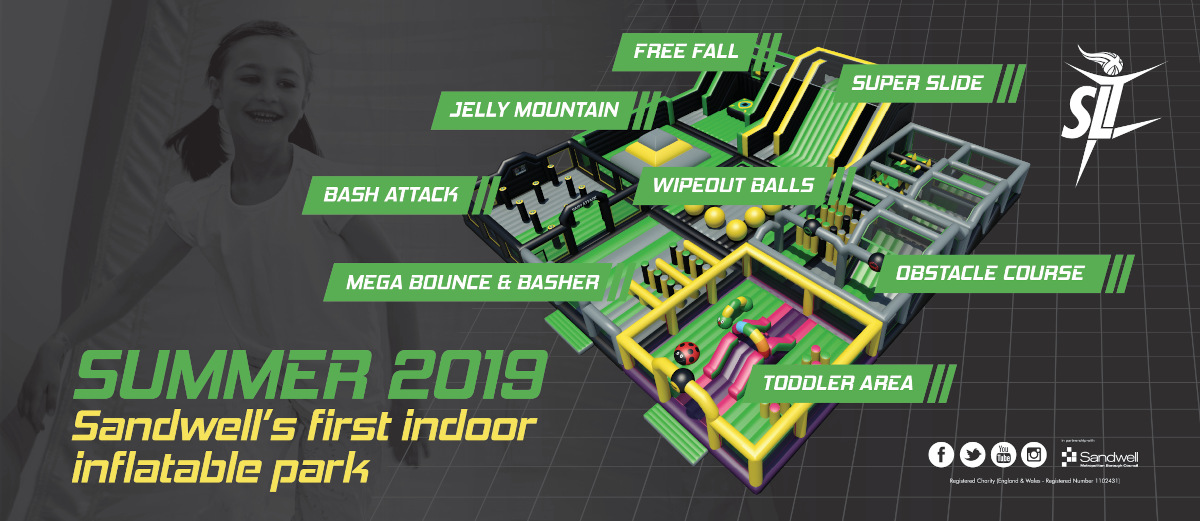 Open every school holiday
Centre Information
Contact Details
Wednesbury Oak Road, Tipton, West Midlands DY4 0BS
Call: 0300 012 0121 (Press 1, Press 3, Press 2)
For questions about membership, classes and swimming lessons:
Enquire Now
For enquiries about bookings, events, feedback or other general enquiries, email TiptonSAinfo@slt-leisure.co.uk
Opening Times
Monday to Friday 09:00 – 22:00
Saturday 09:00 – 20:00
Sunday 09:00 – 20:00
Please check the timetable for activity times.

View this week's fitness activities
Disabled Access
Disabled parking
Disabled toilets
Disabled access to the fitness areas
Guide dogs welcome
Travel Information
You can access travel information and plan cycling, public transport, and walking to the centre by using the
Network West Midlands
website
.
The
Network West Midlands
website also has information on tickets, travel cards and concessionary travel.
Request a call back
Fill out the form below and we will be in touch to discuss your membership options