Winners List: Sandwell's Strongest Man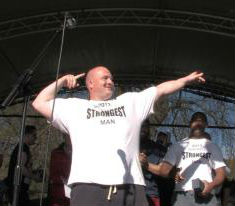 The popular competition was held over two days (5 and 6 May 2013) at Hadley Stadium and at the May Festival at Lightwood's Park, Smethwick.
The first event was the Giant Dumbell Press (for Reps) 40KG for the overs and 32.5KG for the under's followed by an Army Vehicle pull (2.5 ton), Farmers Walk, Hercules Hold (250KG each hand) and Arm over Arm pull. By the end of day one the scores were very close and the competitors were left aching.
Day 2 was held at Lightwood's Park May Day Festival all 14 competitors were back for more.
The sun was out again and so were the crowds, seeing over 20,000 visitors in the park which made the competitors even more charged and up for it.
The show kicked off with the Overhead Log Lift (80KG), Dead Lift (for Max Weight) which saw Sandwell's Strongest Man records smashed as Allan Davis dead lifted 300KG (last year's 270KG) and Aman Sandhu dead lift 220KG (last years 200KG) followed by Tyre Flip.

Then Carry & Drag considered the hardest event by all competitors where they have to carry and drag weights over a 225m course. The final event was the Car Hold, and what a car it was - a 1929 Model A Ford with a pick up weight of 1.5ton. This did test the strength for all competitors after two long and hot days.
The winners of Sandwell's Strongest man 2013 in the two categories were; Allan Davis aka BIG AL (Over 80KG) and Rich Dingley (Under 80KG).
The two days of competition was absolutely amazing with lots positive feedback with spectators saying "What a well organized show, it has just been a fantastic day thoroughly enjoyed by spectators and competitors".
Events
Over 80kg
Under 80kg
Giant Dumbell Press (for reps)
24 Reps
ALLAN DAVIS


21Reps
RICH DINGLEY


Vehicle Pull


0:20.55 Time
ALLAN DAVIS


0:27.27 Time
RICH DINGLEY


Farmers Walk

0:22.26 Time
ALLAN DAVIS


0:21.09 Time
RICHARD DINGLEY


Hercules Hold

1:11.34 Time
RAJINDRA SINGH


1:07.24 Time
RICKVINDER


Arm Over Arm pull

0:21.68 Time
Paul O'Connor


0:22.15 Time
RICHARD DINGLEY


Overhead Log lift

13 Reps
ALLAN DAVIS


10 Reps
AMAN SANDHU


Dead lift (Weight)

300Kg
ALLAN DAVIS


220Kg
AMAN SANDHU


Tyre Flip

1:11.22 Time
ALLAN DAVIS


1:10.27 Time
RICHARD DINGLEY


Carry & Drag

1:34.29 Time
WINSTON FRANCIS


1:32.61 Time
RICHARD DINGLEY


Car Hold

0:33.38 Time
ALLAN DAVIS


0:25.77 Time
AMAN SANDHU