ViPR de-mystified at Portway Lifestyle Centre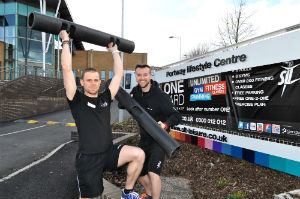 Sandwell's newest leisure facility hosts three ViPR30 classes every week targeting people looking to increase their fitness and exercise in a fun way.

ViPR (pronounced viper) stands for Vitality, Performance and Reconditioning. It can be carried, dragged, thrown, flipped, stepped on and rolled. It's a multi functional piece of equipment enabling the user to achieve a full body workout made up of individual body part exercises and also abdominal exercises in a 30 minutes class.
ViPR can promote amazing results targeting body tone, muscular endurance and also is a fantastic way to burn fat to aid weight loss.
ViPR30 is one of SLT's 30 minute class ranges. A 30 minute class will give the same benefits as a 60 minutes class but under a shorter express designed session.
ViPR30's Benefits
Increase muscle strength and tone

Combine strength and movement training

Improve balance and flexibility

Increase strength and power

Burn calories and reduce body fat.
Portway Lifestyle Centre located on Newbury Lane hosts ViPR30 classes Tuesday evenings at 7pm, Wednesday afternoons at 12.15pm and also Saturday mornings at 8am.

Kevin Daly, Site Fitness Coordinator said: "ViPR30 is an amazing way to get an all round fun and exciting workout to target a whole range of fitness needs and goals.
"Its multi functional use enables the body to be worked in different ways and directions. Our ViPR30 classes are held in our main studio which is a lovely atmosphere to exercise in".
Find out more about ViPR by watching our video.
)