Trampoline fun at Portway Lifestyle Centre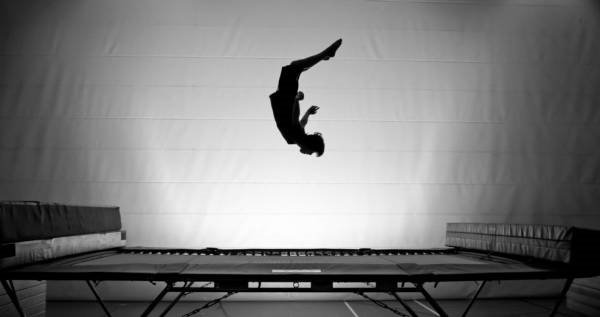 Trampolining is a breath-taking sport featuring a range of disciplines such as artistic, trampoline, acrobatics, aerobics and tumbling. It is enjoyed by an estimated four million people in the United Kingdom. Portway Lifestyle Centre offers the following classes, Tuesdays 4-5pm Ages 6 and under Tuesdays 5-6pm Beginners over 7s, Wednesdays 4.30-5.30pm Advanced over 5s and Wednesdays 5.30-6.30pm advanced over 8s term time only £30 block of 6weeks badges and certificate's awarded.
It requires strength, mobility, endurance, flexibility, body control and coordination all of which will build over time under the tuition of our coaches.
The high level of physical fitness needed to excel helps encourage a healthy lifestyle, including regular physical activity and eating a well-balanced diet. The wide range of movements involved in trampolining works every muscle in the body and burns approximately 410 calories per hour.
In case you need a little convincing here's our top reasons why your child should give it a go…..
Character. Gymnastics stresses the importance of doing the right thing, even when the teacher isn't looking.
Resilience. A child falling down and getting back up while trying to master a specific skill is learning resilience and the capacity to recover quickly from difficulties.
Grit. The determination to keep trying in order to achieve a goal is what helps lay the groundwork for achievement in children, and educators around the world understand the relationship between achievement and grit. Watching that same child persist at learning a skill is laying the groundwork for a child who possesses grit.
The value of effort. Trampolining is not an easy sport. However, if children try hard they will see progress and they'll learn to understand the relationship between effort and success.
Ambition. Setting lofty goals and believing that you have the capacity to reach them is at the core of ambition. Watching older kids fly and thinking that someday, if you work hard, that you too will be able to do that, is the beginning of ambition.
Courage. Trampolining can be a scary sport, but it's only when children are pushed out of their comfort zone that they have the opportunity to develop courage. Courage is not only being brave when we fear something but also a trait to call upon when we have to do something that we do not wish to do and is a great skill to equip children for life.
Self-confidence. A child who develops all of these traits also develops self-confidence, with a strong belief in their selves. If your child is able to go to a class on their own, follow the rules and directions, get along with their peers, understand about what's involved in learning a new skill and that failing is ok because you are ambitious, have courage and grit is the making a rounded and self-confident child.
To find out more about Trampolining opportunities at Portway Lifestyle Centre call 0300 012 0121 (Option 1 & 5)