Tipton Swimming Centre Wins National Award...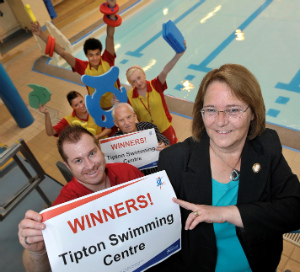 The National Access Performance Award, given out by the National Benchmarking Service (NBS), is awarded to centres that provide facilities and services to members of the public that are not typical users of leisure centres.
The Queens Road facility in Tipton has been recognised for performing in the top quartile of leisure centres nationally.
Councillor Horton said: "We are delighted with this result for a local Sandwell facility in Tipton. This fantastic result also demonstrates how Sandwell Leisure Trust's aim of 'Creating an Active Sandwell' is contributing towards the Sandwell Scorecard for Great People, Place, Prospects and Performance."
Mike Hill, NBS Contract Manager, said: "Tipton Swimming Centre has been identified as one of the top performers for 2010 for their access performance achievements.

"This is in recognition of consistently strong performance in working to access the most 'disadvantaged' groups and new users. These indicators of effectiveness are particularly in the context of social inclusion."
Andy Moore, Facility Manager, said: "I am delighted with this fantastic achievement for all the team at Tipton Swimming Centre. Our friendly staff work hard to ensure we deliver a great service for all our customers.
"This award is recognition of how we target effective programming by working with the community to offer affordable access for local people."
The award will be presented to Sandwell Leisure Trust at the 2011 National Benchmarking Service Improvement Conference on the 28th June.
The National Benchmarking Service for sports and leisure centres measures the performance of leisure centres across an array of different dimensions.
For more information on Tipton Swimming Centre, contact Sandwell Leisure Trust on 0300 012 0121.