Tipton Sports Academy Supports NHS By Becoming a COVID-19 Vaccination Centre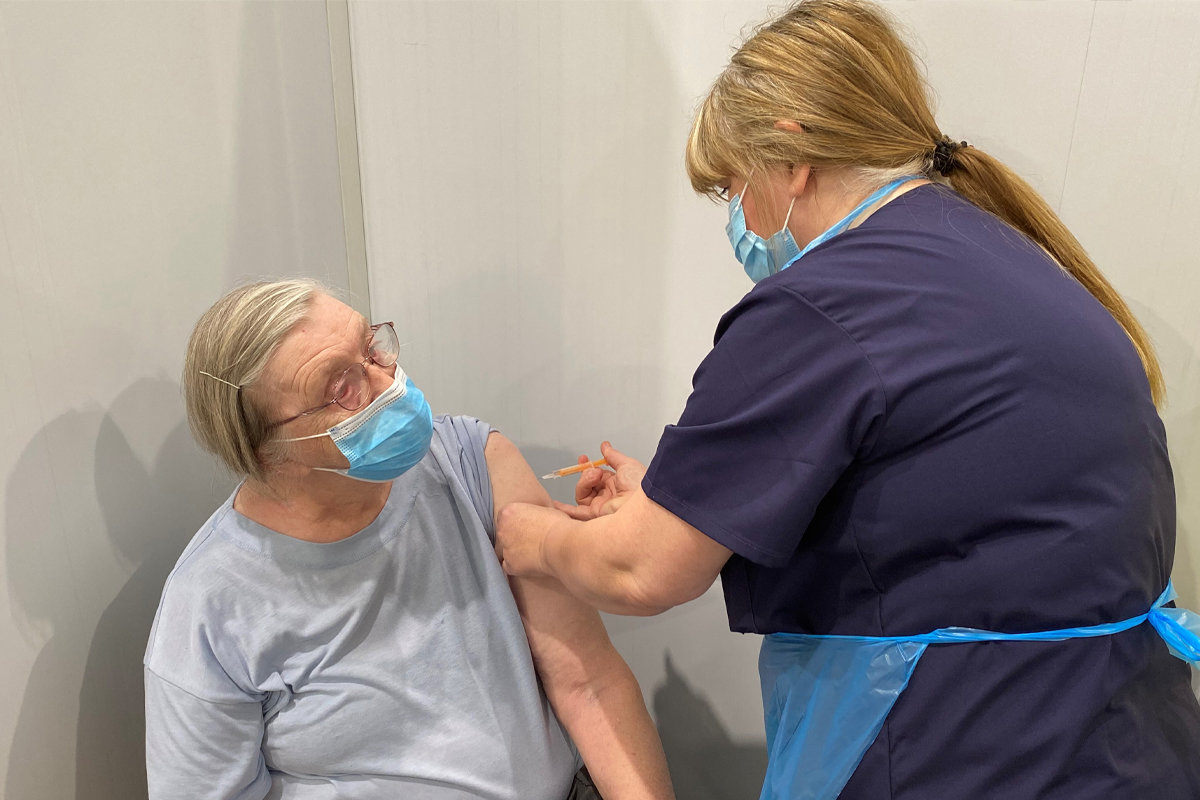 Tipton Sports Academy has been chosen as a vaccination centre to serve the people of the Black Country and West Birmingham as part of the Government's roll out of the UK coronavirus vaccine programme.
As a well-known landmark close to good transport links, the venue in Wednesbury Oak Road proved to be a strong choice to support the work of the NHS in delivering the vaccine to the local community.
The vaccination centre at Tipton Sports Academy became operational from Monday 22 February, with the national vaccination effort being extended to further priority groups, as announced recently by the Department of Health and NHS England.
The first patient to receive a vaccination at Tipton Sports Academy when the doors opened on Monday 22 February was Mrs Christine Adams, aged 74, from Tipton. She received her vaccine from Consultant Nurse Michelle Dexter.
Mrs Adams said:
"I've been planning to get my vaccination for a couple of weeks so when I found out there was a centre opening just down the road at Tipton Sports Academy, it was ideal for me. Thanks to everyone – the NHS staff and all the scientists – who's looking after us so well."
This Vaccination Centre complements the GP-led vaccination services already running locally with people being sent letters from the National NHS Booking Service to access this and other Centres.
How to book your vaccination appointment:

People receiving a letter can book their appointment in two ways: either by going online at www.nhs.uk/covid-vaccination, or by calling 119. You won't be able to book unless you have received a letter.
Please do not call Tipton Sports Academy to book your appointment, as they will be unable to help, and please do not attend without an appointment. All bookings must be made directly with the NHS vaccination service.

In order to help NHS staff manage queueing and registration people are being asked to arrive at the vaccination centre no more than 10 minutes before their scheduled appointment time.
Before people enter the vaccination centre, we will confirm details of your appointment and check your temperature to ensure the centre remains safe for everyone using it.
Sally Roberts, Chief Nurse, Black Country and West Birmingham CCGs said:
"Across the Black Country and West Birmingham a great many people are working hard to rollout vaccinations, starting with those most at risk. Our progress to date has been steady and I am delighted that we are now able to add another vaccination centre, capable of delivering thousands more vaccines each week.
"We know lots of people will be eager to get protected, but please do not try to book or go to the vaccination centre before you receive a letter from the NHS booking service. We are making rapid progress through the cohorts, which are set at a national level.
"Once you have an appointment to receive your vaccine, please arrive on time. There is no need to arrive for your vaccine earlier than your appointment time as this may result in you and others waiting longer than necessary."
Ash Rai, Chief Executive of Sandwell Leisure Trust which runs Tipton Sports Academy, said:
"By hosting the vaccine centre at Tipton Sports Academy we're able to support the NHS in providing immunisation for the local community. We already have vaccinations being offered at Portway Lifestyle Centre, in partnership with our local GPs. People who book an appointment when they're eligible and receive the vaccine will be helping the NHS in the most important public health initiative it has ever undertaken.
"The vaccination programme is obviously a very important part of combatting the spread of COVID-19; although, in the meantime, continuing to adhere to restrictions and hygiene measures also remains critical."
Sandwell Council deputy leader, Councillor Maria Crompton, said:
"This is fantastic news for us locally, in our fight across the borough against the coronavirus.
"Having Tipton Sports Academy on board as a vaccination centre will greatly increase the number of jabs we can deliver, and the speed at which we can administer them. It will make people safer from this deadly virus more quickly.
"The NHS will be in touch with people as and when they become eligible for the vaccine via GPs, healthcare professionals and employers, and when you are invited to get yours, I would strongly advise you to have it.
"While you wait for your turn to have the vaccine, please continue to do all you can to keep yourself and your loved ones safe. Wash your hands regularly, wear a face covering where required and maintain the two metre social distancing from people not in your household when in public spaces.
"We have always said we will beat this, and we are getting closer to that day. But we still need to remain vigilant."
[photo credit: Sandwell and West Birmingham Clinical Commissioning Group].