Tipton Sports Academy: Host to Tipton TAGB Tae Kwon Do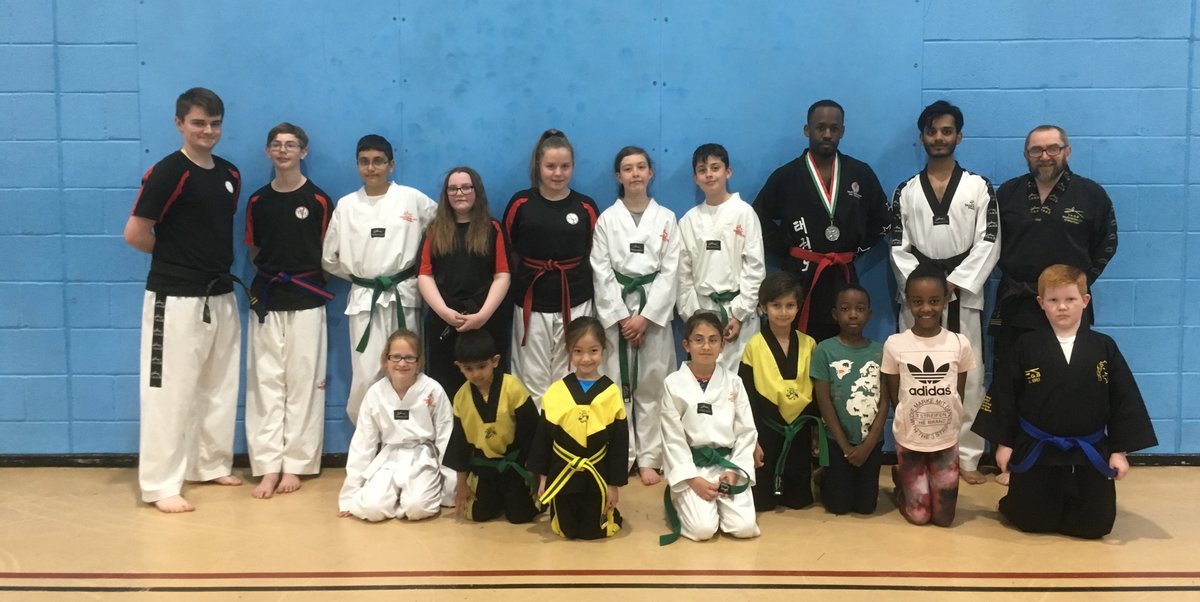 Every Saturday morning Tipton Sports Academy hosts Tipton TAGB Tae Kwon Do run by Craig. He shared with us some more information about the class and the benefits of Tae Kwon Do;
Could you give us a brief outline of your class?
My class is a traditional Tae Kwon Do Martial Arts class inclusive of all abilities (physical Disability, Mental Health & Autism, Emotional problems and high flyers ability students). Tae Kwon Do ( the way of the hand and the foot ) is a name from last century for a martial art incorporating 5 different ancient martial arts in one all combined art covering the physical, mental, spiritual and philosophical aspects of the oriental arts.
What does the class teach?
We teach all members of the community from 3 years old to 103+ years young, taking you from absolute beginner all the way through to Blackbelt and beyond to Master level.
We teach traditional 'line work' ( the rows of students all in unison performing martial art moves as you see in movies and on TV ) traditional patterns ( called forms in Kung Fu , so we use TUL Korean for form ) a set of martial art moves in defence and counter attack to a logical sequence to improve the students range of movement and self discipline.
'Set sparring' this is an exercise where you face an opponent in choreographed combat to get used to interacting with others in a safe controlled supervised way.
'Free Sparring ' this is when you reach a level of training that we believe you can defend yourself and counter attack another highly trained student.
'Self Defence ' this is taught to the highest degree of competence using modern and traditional techniques including knife defence and blunt weapons .
What are the benefits of Tae Kwon Do?
The main health benefits of Tae Kwon Do are;
· Improved mental health , including self confidence, improved body image and improved serotonin levels controls mood changes.
· Anger management though self discipline.
· Balance , because of the high kicks in Tae Kwon Do we teach balance techniques which will last the student though there life and old age.
· Weight loss and obesity, because Tae Kwon Do is about body movement not strength there is no restrictions to body type , but if you want to loose weight and learn a skill at the same time we can help.
· Flexibility, better joint movement and help in natural pain relief.
· Fitness, cardiovascular, body weight and movement based skill training with the lead instructor who is a qualified personal trainer.
What makes your class great for all ages?
We train all ages, abilities, disabilities in a community based friendly family run and family welcoming club, we encourage families to train together as well as individuals either adults, children or pensioners.
I will train all my Jeja (student of Tae Kwon Do) to the highest level and as a club we have won regional, national and international contests in Tae Kwon Do, myself representing England 3 times in world championships
Are the classes suitable for beginners?
We give the first 2 lessons free so you can completely make a full decision on joining us or not without any pressure from us then it's £40 a month for unlimited daily training at our Westmids Tae Kwon Do clubs or £25 a month for 1 lesson a week at any of my 3 clubs
We are based in Tipton where our students live but we have an international student base welcoming students from Poland, Bulgaria, Hungry, Portugal, Hong Kong, Pakistan, India and the African continent
We are fully inclusive to all so give us a try!

Classes run every Saturday at 9.30am-11am at Tipton Sports Academy. For more information you can contact Craig Mason 3rd Dan 'Sabum' (Master Instructor) BTC registers, Fully insured, DBS checked, First Aid Trained, RSPCC welfare certified and part of Sport England. Phone or text 07877150691.