Tipton Leisure Centre is open...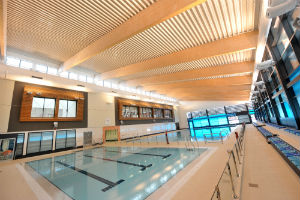 The £8million Tipton Leisure Centre, on the corner of Alexandra Road and Thursfield Road, opened over the Easter weekend and is now being enjoyed by the public.
The new centre features:
25 metre pool

Teaching pool

Family changing village

Dance and fitness studio

54-station gym
More information about Tipton Leisure Centre
The new facility has replaced the old Tipton Swimming Centre which was opened back in 1933. The new centre provides Sandwell with a brand new facility featuring a greater mix of activities.

Tipton Leisure Centre offers a full programme of public swimming, lessons, parent and toddler classes and disability sessions. It is also the first swimming centre to launch nervous adult swim sessions for those looking to increase their confidence in the water.

The state-of-the-art dance studio, which features the latest lighting and entertainment system, is hosting 29 fitness classes per week including fitness yoga, aerobics, 50-plus fitness, and bodypump. The pool also hosts aqua-fit sessions.

Designed to be accessible for people with disabilities, the centre features a lift, pool hoists and Sandwell's first 'Changing Places' changing facility.

The building, which was completed by contractor Wilmott Dixon, was finished within schedule for its spring opening.

The centre, which was designed by Sandwell Council architects is now managed by Sandwell Leisure Trust.

Councillor Linda Horton, Sandwell's cabinet member for leisure services, said: "It's fantastic to see this superb building completed and on time."
"Tipton Leisure Centre offers a state-of-the-art facility to meet the different needs of local residents and is a jewel in the crown for Sandwell's leisure services."

Paul Slater, Chief Executive of Sandwell Leisure Trust, said: "We are delighted to be managing Sandwell's newest leisure centre which is the first to be built since 1976."
"Working alongside Sandwell Council, we are pleased to be offering residents the latest equipment and activities to help keep the borough active."