The Games & Me Event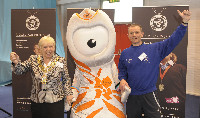 This event provided an opportunity for champions from across the West Midlands to tell their stories of how the London 2012 Olympic and Paralympic Games is inspiring them to get involved from, volunteering to playing sports for the first time.
David Moorcroft, Chair of the West Midlands Leadership Group, Chris Holmes, Director of Paralympic Integration for London 2012, Blind Dave Heeley, Sandwell's Physical Activity Champion and special guest London 2012 mascot Wenlock also encouraged 470 pupils from Get Set schools across the Black Country to have their own Olympic or Paralympic moment taking part in a 3000m relay to try and break David Moorcroft's 1982 British record.
David Moorcroft said 'by holding the launch of this campaign the Sports Challenge Day, at Tipton Sports Academy, we were able to bring to life for the public the Games and Me in an engaging, creative and inspirational way. I hope that you continue to build upon this wonderful event and enable as many people as possible across the Black Country to get involved with London 2012 activity'.