The Games and Me...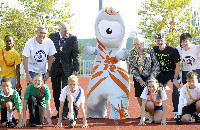 Tipton Sports Academy recently hosted 'The Games and Me' event and Sports Challenge Day.
The event provided an opportunity for champions from across the West Midlands to tell their stories of how the London 2012 Olympic and Paralympic Games is inspiring them to get involved, from volunteering to playing sports for the first time.
Read more about this fantastic event that took place in Sandwell on our News page...