The Blitz Returns to Smethwick...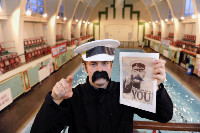 The Swimming Centre built in 1933, was an integral part of defence during the war years when the subways were used as a shelter as the streets above were suffering from the skies.
Centre Manager Chris Webley has got the support of local schools to recreate the old shelter for schools trips and also for the local community to come and visit.
To enable for the project to develop the centre needs your help so they can build up a picture of exactly what the shelter looked like, how often it was used, how long did people stay under ground ? The centre team would love to see old photographs or any evidence to support any experiences.

Any one with an Air Raid shelter experience to share is welcome to contact the team at
Smethwick Swimming Centre
.
Staff will be on hand to record any experiences which is hoped may support a funding application to get the project off the ground. By prior appointment only and subject to availability, tours can be provided of the shelter.
Remember Your Pool Needs You !

For more details please call a member of the Duty Manager team on
0300 012 0121
.