Stroke Victim Walking Again at Portway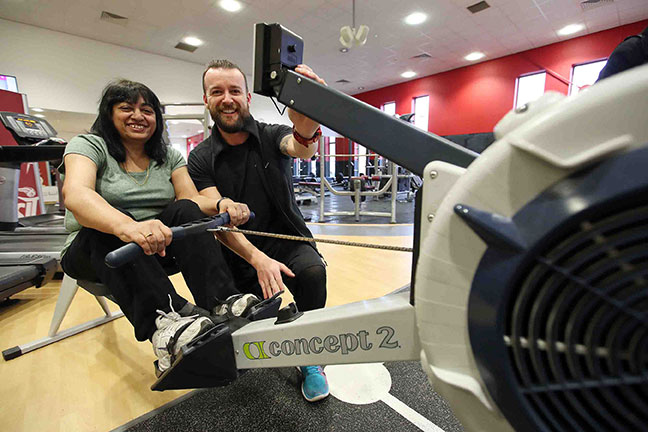 After suffering two mini strokes in quick succession and being told by doctors she would be bed bound for the rest of her life, Harsha Patel (aged just 53) is walking again after specialist rehabilitation treatment at Portway Lifestyle Centre.
Harsha suffered the first in January 2014, which affected the left hand side of her body, followed by a more severe stroke just weeks later that completely immobilised her right side – but since July 2015 has been undertaking targeted and regular recovery sessions to improve her balance, strength and stability.
She now walks freely with the aid of a stick and has regained a lot of the sensation and feeling down her right side, plus her speech patterns have greatly improved and she's got much of her former confidence and positivity back.
Following the second stroke, Harsha was hospitalised for over three months and then referred to Moor Green Hospital in Moseley, Birmingham, for physiotherapy and counselling sessions. However the sessions only lasted for six months and then she was then left to her own devices.
She explains: "I have never felt so alone and helpless, but my husband Dinesh is my rock and he increasingly became my full time carer and mentor. We just didn't know what to do next, but then someone at Moor Green mentioned Portway, which is a disability centre of excellence. I quickly felt at home there and started working closely with instructor Scott Parish doing targeted exercises and we hit it off straight away, as he's very helpful and attentive and knows his stuff.
"I was really pleased with my progress and it proved better than all the previous treatments, but to start walking again we needed access to their hydrotherapy pool, so imagine our delight when in September 2015 we were able to get a doctor's letter of recommendation for more ongoing hydrotherapy treatment.
"The pool got me properly moving again and I've recently started walking in a more dynamic way, more like I used to do before the strokes, so I can say from experience that Portway has been the best thing that's ever happened to me!"
Dinesh Patel (58) says: "Portway turned out to be the light at the end of the tunnel, because our lives were turned upside down on coming out of hospital. The sessions at Moor Green were quite basic and only achieved so much and it broke my heart to see Harsha so upset and broken.
"Whilst I was at work, my sister Savita started coming over to work with Harsha at home and I remember the joy we all felt when she finally managed seven assisted steps before collapsing with exhaustion. But it proved to be the start of something and gave us the impetus to really make a go of the opportunity that Portway provided. The 90 minute sessions, three-four times a week are just what Harsha needs to keep progressing.
"Scott has been brilliant and is very professional and thorough and we get regular progress reports and evaluations. Indeed, all the staff there are superb and the place just radiates positivity. It was literally like finding heaven and we would happily pay for the service if we had to – it's that good!
"There's always someone worse off than you and Harsha and I have had the pleasure of working out alongside blind people, the severely disabled and also those who have lost limbs, so we all help and encourage each other and there's a real sense of community and camaraderie."
SLT Gym & Fitness Instructor, Scott Parish, adds: "Harsha is such a fighter and that inspires me, she deserves all of my attention because she's coming back from quite a severe condition. Plus the role that Dinesh plays is lovely to see. It's tough love I guess as he's there every session and really pushes her, but it's all paid dividends now as the progress she's made is quite remarkable.
"When I first met Harsha she was completely reliant on her wheelchair and Dinesh had to help her with every aspect of her daily life. And I remember they were a bit apprehensive to start with, as the level of treatment they'd had before had left them frustrated. But, as soon as I explained that we would prescribe and deliver bespoke training that would be geared towards continuous progression and improvement and ultimately independent movement, they could see a way forward for the first time in ages.
"With Harsha it was all about looking at the muscle recruitment involved in her gait post accident and re-training the movement patterns that she would have displayed prior to her accident. She's undergone a host of progressive programmes that we evaluate and tweak every four to six weeks and has come on leaps and bounds. She's regained much of the tactioception (sensation) down her right side and has gone from being barely able to speak to just having a slightly slower delivery now.
"I can see the emotion on her face as we tick off each little milestone and it's very gratifying and humbling. She even brought in some Lego blocks for my little boy recently, to say thanks, and that meant a great deal – you can't beat job satisfaction like that!
"The Patels have told me they feel so lucky to have a facility like Portway on the doorstep – and it's true. There's nothing quite like it, not even in London, and long may we continue making such a difference to people's lives and speed of recovery."