Staffordshire pupil becomes two millionth girl to play cricket, on International Women's Day 2019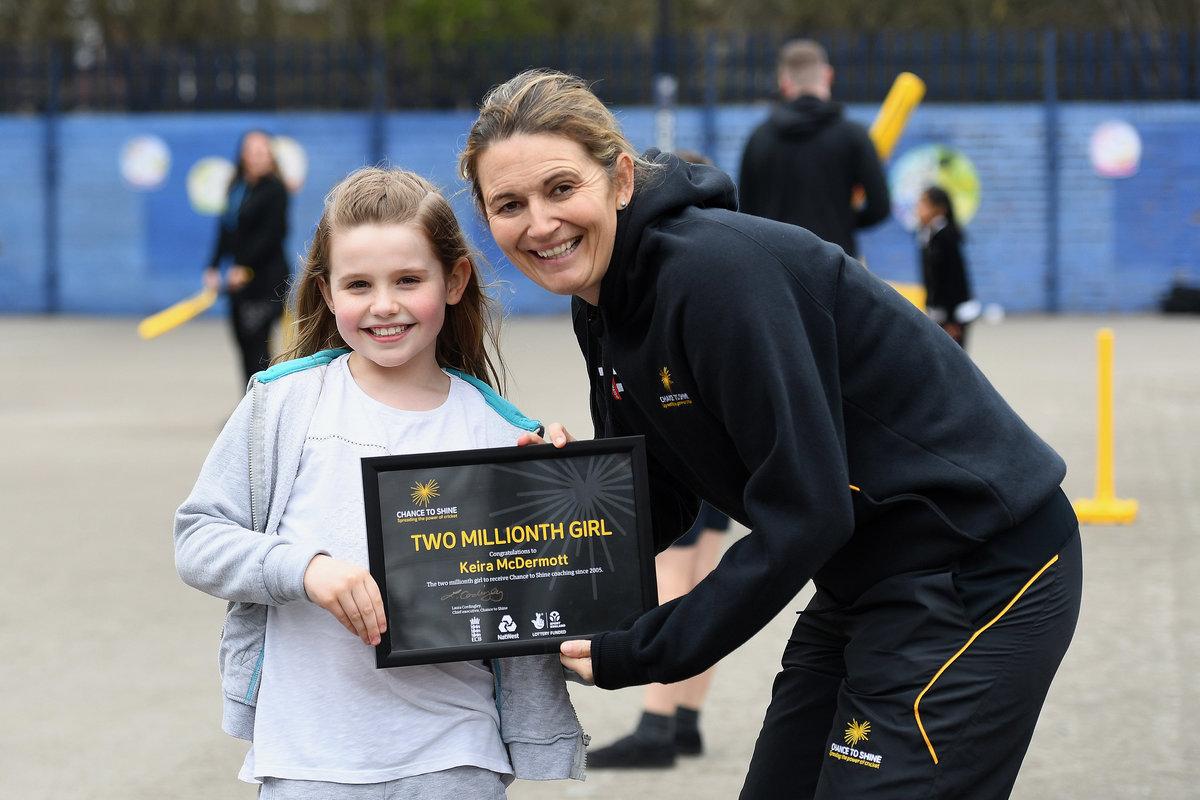 A West Midlands student from Langley Primary School in Oldbury has become the two millionth girl to play cricket through the Chance to Shine initiative, it was announced today (8 March) on International Women's Day.
World Cup-winning England captain Charlotte Edwards paid a special visit to the school to present a certificate to Keira McDermott in her morning assembly.
Keira, 9, also helped to open the London Stock Exchange on Wednesday (6th), alongside Charlotte and former England cricketer Lydia Greenway, after an invitation from Chance to Shine and LSE Chairman, Sir Donald Brydon.
Chance to Shine works with 39 county cricket boards nationally to fund high quality cricket coaches and deliver cricket to around 500,000 children in 4,000 state primary schools each year. The charity works closely with Staffordshire Cricket to give young people the opportunity to play, learn and develop through cricket.
Speaking at Langley Primary School, Chance to Shine Trustee and long-term charity ambassador Charlotte Edwards said, "It's such a proud moment for me to meet Chance to Shine's two millionth girl, Keira, at Langley Primary School and to celebrate on International Women's Day this massive milestone with the charity.
"For me, when I was young, there were absolutely no opportunities for girls to play cricket in school – zero - and I played for the boys' team. It's therefore really inspiring to see so many girls not only playing the game at school, but also learning valuable skills like teamwork, leadership and self-confidence; as well as improving their physical and mental health. Chance to Shine is helping to normalise cricket for girls and I'm so pleased to be a part of this fantastic charity."
After receiving her certificate, Keira said, "I like playing cricket because it's a great sport to do and it's fun to watch as well. Girls should play cricket (as well as the boys) because some girls really want to play cricket, so they should have the chance to."
Her teacher Sam Arnold described the impact Chance to Shine is having on girls at Langley Primary School: "In terms of leadership skills, a lot of the girls have become quite dominant in sports. Normally it would be the boys telling the girls 'this is how it's done, these are the rules of the game'; but the more girls that we get trained up through Chance to Shine the more they're sharing some of their ideas and say 'this is how we do it'. It's great - go girls!"
Chance to Shine Chief Executive Laura Cordingley today announced funding for a new Chance to Shine cricket programme in state secondary schools, reaching over 14,000 girls through 120 schools.
Only one in 10 teenage girls get the physical activity they need each day and one in 10 play for a sports team, as opposed to one in three boys*.
The Royal Mail, Sage Foundation and several of the charity's donors are all supporting the new scheme, launching next month, which will provide a comprehensive programme of coaching, leadership training and competition to teenage girls. It aims to help them develop key life skills needed for the classroom and, in future, the corporate boardroom.
Natwest, Chance to Shine's Official Charity Partner will be supporting our work to help understand the wider impact of team sport, particularly for teenage girls in developing key life skills that will support future education and life choices.
Chance to Shine Chief Executive Laura Cordingley added, "When we visit schools and ask girls about having equal sporting opportunities as boys they all speak passionately and, without missing a beat say, 'Girls are just as good as boys and should have the same opportunities to play cricket'. As one head teacher told me, 'Our girls don't want to be making the cricket teas, they want to play!' Each year we are giving hundreds of thousands of young girls the chance to play the game and now, with our exciting new secondary schools programme launching in April, we can inspire even more. To reach two million girls is a phenomenal effort and a credit to everyone who is involved in Chance to Shine."
England captain and Chance to Shine Ambassador Heather Knight congratulated the charity on its success saying, "Chance to Shine has done so much for cricket in this country, and specifically for women's and girls' cricket. Two million girls introduced to the sport is a massive achievement and it's exciting to think of what that might mean for the future. We've been trying to build on the momentum from our victory in the ICC Women's World Cup in 2017 and Chance to Shine's new secondary school girls' programme can play a big role in getting more girls to pick up a bat or a ball and start playing the game."
Street Cricket is available for FREE every Saturday at Hadley Stadium in Smethwick. The session is for young people ages 8-14 and runs from 11am - 1pm.

For further details, please visit chancetoshine.org – and for the latest news follow us on Twitter @Chance2Shine
*Sources: Sport England, 2018, Active Lives survey; Department for Digital, Culture, Media and Sport, 2018, Taking Part survey