Sports Development Courses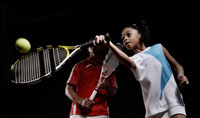 Sport Development Courses
The Sandwell Leisure Trust 'Sport and Physical Activity team' works to develop sports in our area.

We offer courses in lifeguarding and football, and can help you get the funding you need to set up a community sports club. We also help local clubs, schools, voluntary organisations and community groups with outreach events, training courses and activity programmes.

The unit has 'Quest' accreditation, a nationally recognised leisure industry standard.

Follow us on Flickr to see some of the activities the team is involved with, or look out for our newsletter!

If you want to organise an activity, please get in touch with the team.