SLT Recognises Work-Life balance with Corporate ONE Card Membership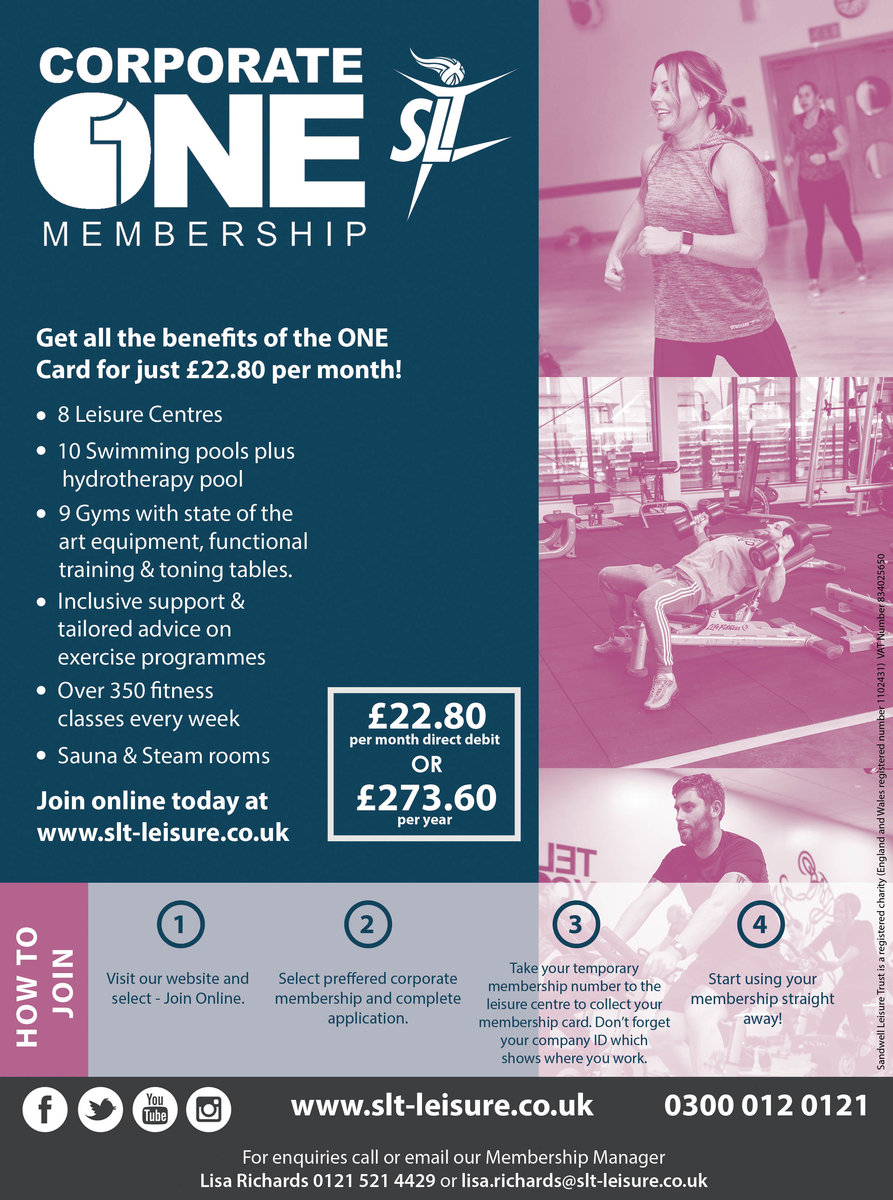 Sandwell Leisure Trust recognises the importance a healthy workforce can have on businesses and the local economy.
It is widely known that being in work is good for peoples health and well being, but it's increasingly being recognised that a healthy workforce is beneficial to employers too. By creating a positive, safe and healthy environment for employees, you can increase morale, improve your employee's work-life balance and in turn positively impact your business.
Membership Manager, Lisa Richards says 'We have over 100 local organisations signed up to the Corporate Membership, these companies have recognised the benefits a healthy workforce has on its business and the Corporate ONE Card is very popular. It carries all the benefits of the ONE Card including unlimited use of all our gyms, swimming and group fitness classes for the reduced rate of just £22.80 per month. There are no costs to become an approved corporate company and we supply the art work to help to spread the word within their organisation'
SLT understand that a healthy workforce can, increase productivity, improve business performance, reduce accidents and work-related ill health and increase staff moral. All these factors will have a direct impact on the health of Sandwell residents and afar.
There are over 100 companies approved and include large local employers from large super market chains, public sector trusts and the emergency services through to local businesses.
A full list of approved companies and more information on the Corporate ONE Membership can be found here
To get your company signed up, click here and complete the online form
Checklist:

Form must be completed by a Senior Manager within the organisation (or someone within HR / someone responsible for arranging employee benefits)
Your employees must be able to show official evidence of current employment with your organisation (payslip/ID badge)
You must be able to share the information regards the Corporate membership with the whole of your workforce
If you have any questions, email Lisa Richards, our Membership Manager lisa.richards@slt-leisure.co.uk or call 0121 521 4429