SLT make big splash for GB Swimmer Alice Dearing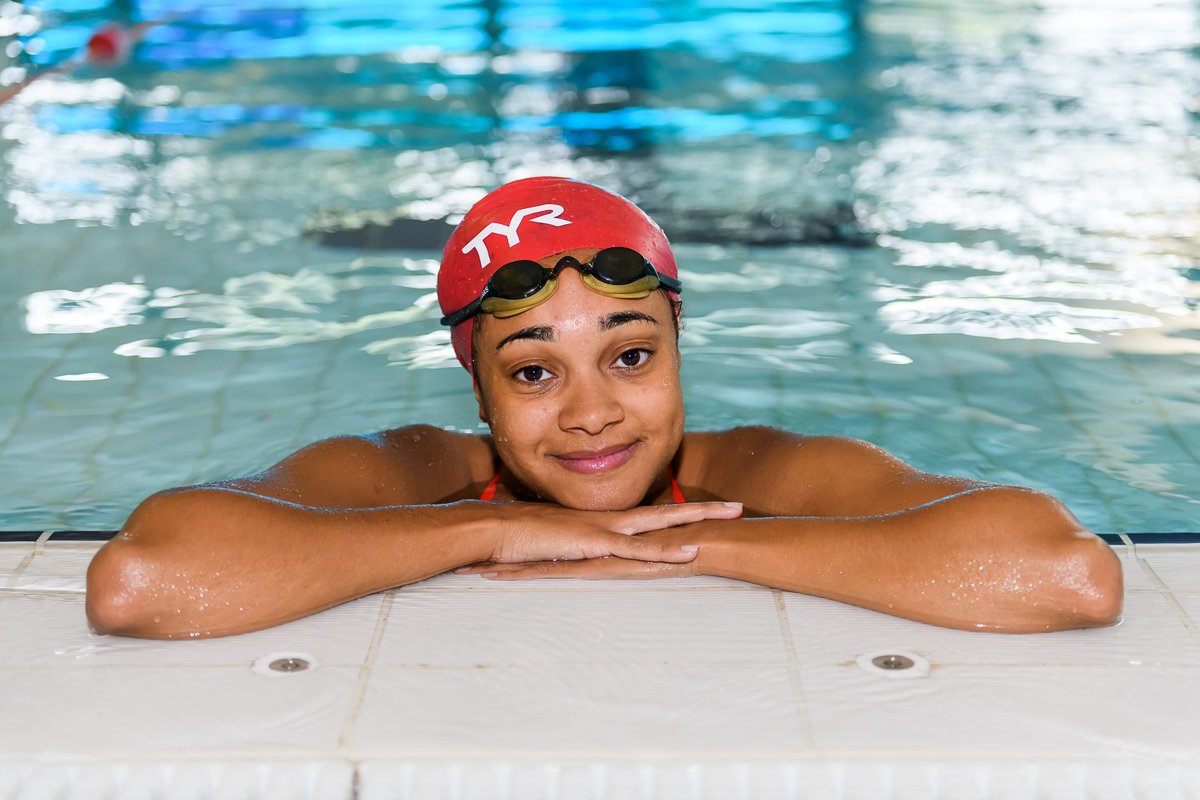 Tipton Leisure Centre (TLC) is providing a local GB Swimming Squad member with valuable pool time as she ramps up her training for Olympic qualification.
The Sandwell Leisure Trust (SLT) facility on Alexandra Road has welcomed Alice Dearing, age 22, from Oldbury, who is one of our top female marathon (10km) swimmers having represented Great Britain at numerous international competitions.
Since winning the World Junior Championship for Marathon swimming in 2016, which announced her on the global stage, she has placed 12th at the European Championships in 2018 and earlier in July she came 17th at the 2019 World Championships in South Korea.
SLT answered a call from Team GB for extra training arrangements at local facilities for their elite athletes and Alice says: "TLC is obviously very close by and has great facilities and there's ample pool time for me to be able to get a lane swim and go through the extra meters I need.
"The sessions I've been doing there over the summer last for 60 to 90 mins and I typically get through 4-5km of steady swimming to keep my schedule on course. The staff are so friendly and the other swimmers in the pool are always nice too and up for a chat, plus there's really good etiquette in the lane. It's a very modern facility as well and extremely clean poolside and in the changing areas.
"It brings back fond memories too, as back in 2014 my club was closed for the summer and I swam at TLC leading into the World Junior Championships. I had to get through long sessions in order to stay fit for the competition and I ended up coming fourth in the 7.5km competition, missing out on a medal by less than a second.
"I also leant to swim at SLT's Langley Swimming Centre in Oldbury when I was 5-6 (along with my brother Joseph, now age 27) and always enjoyed swimming there. We then joined Oldbury Swimming Club who trained there at the time, so I have many great memories of that pool as well.
"Latterly I've been at the Loughborough University club (where my coach is based) and am also starting very shortly a Masters in Social Media and Political Communication, but any time I come home and need a pool to use it's great to know that TLC will help me get some extra training in – especially with the next big Olympic qualification race for marathon swimming taking place in early June in Japan.
"I'd like to add a big thank you to TLC and SLT for supporting me the way they have, because they have been brilliant in facilitating my training and the staff are always helpful and kind. The amount of pool times for lane swim and even play swims that they put up is wonderful to see, so I would encourage young and old to take advantage, as is it such a good and fun way to keep fit!"

SLT'S Lynne McCowan, Manager at Tipton Leisure Centre, adds: "Alice is a lovely young lady and a pleasure to have around the centre. She's supremely talented, as well as being very dedicated and focused, so if we can play a small part in her achieving that all-important Olympic qualification time and performance then we'll be both proud and delighted."