SLT instructor lands lifetime achievement award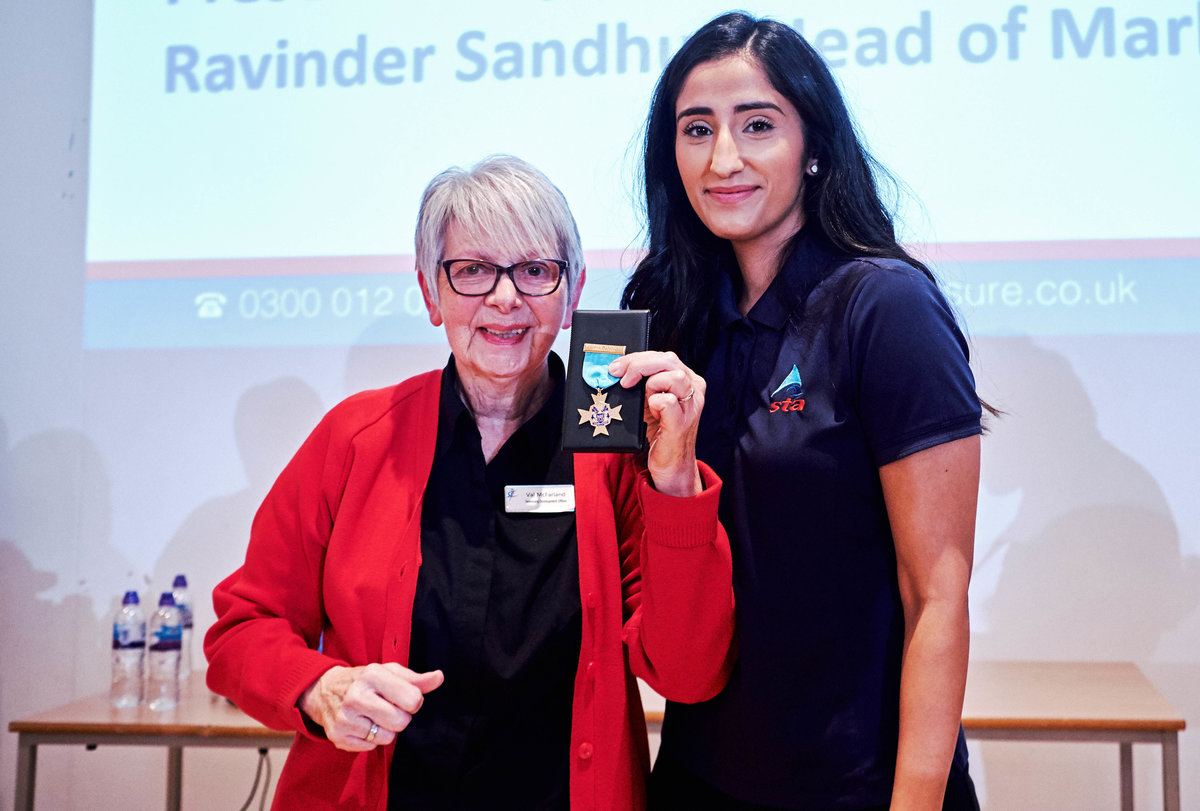 Val from Tipton, who is a very youth full 72, has over 40 years experience as a swimming/aquatics teacher and lifesaving tutor and examiner - and has subsequently been recognised by STA with the top service and achievement accolade for 2018.
She has taught thousands of schoolchildren across the Sandwell and Dudley areas to swim, plus almost as many adults – including stroke sufferers and amputees needing to adapt their stokes so they could enjoy swimming again, plus people into their 80s who have finally taken the plunge.
In her role as a Tutor Val has also organised and delivered regular external and internal training courses to ensure the next generation of teachers also share the same passion for swimming as she does, plus as result of her success in training and examining for lifesaving and lifeguards a sizeable number of people (locally and globally) have gained employment and developed career paths.
A delighted but modest Val says: "It's just what I do, so I was quite taken aback when receiving what I now know to be such an esteemed award. It started as a hobby back in 1975, working voluntarily with clubs and special schools and teaching deaf/blind and physically disadvantaged children and adults to be confident in the water – and I loved teaching them so much I gave up my full time job and taught swimming wherever I could.
"I also enjoy teaching others to do as I do and it's wonderful to look back and see people now in senior management who first came to me as teenagers. Even now into my 70s, my focus is still to help others swim proficiently, enjoy aquatic experiences or become teachers and lifeguards, because being able to swim is an essential and hugely enjoyable life skill and it's never too late to learn."
SLT'S Assistant Operations Manager, Sean Ryan adds: "Val is a true inspiration to us all and has touched so many lives in a positive way over the years. She ensures that all who has a desire to learn to swim can do so - even if some of them have to overcome varying challenges to do this.
"Her internal training ensures our swimming and lifeguard teacher teams deliver lessons and standards of the highest order and Val's wealth of knowledge is also called upon when we need to change systems and processes to ensure we meet the ever changing demands of parent and schools that use our facilities in Sandwell.
"Val goes beyond the call of duty too because – for example -when her children were little it was not uncommon for her to use them to prove to reluctant adults that even youngsters can do effective first aid treatment, recovery position and resuscitation skills that can save a person's life."
David Lewis, STA's President said: "STA's Cross of Merit is awarded to swimming teachers who have shown a lifetime of achievement and service to the profession. We are delighted that this year's honour has been rewarded to Val in recognition of her incredible journey of service and achievement."