SLT announces employees of the year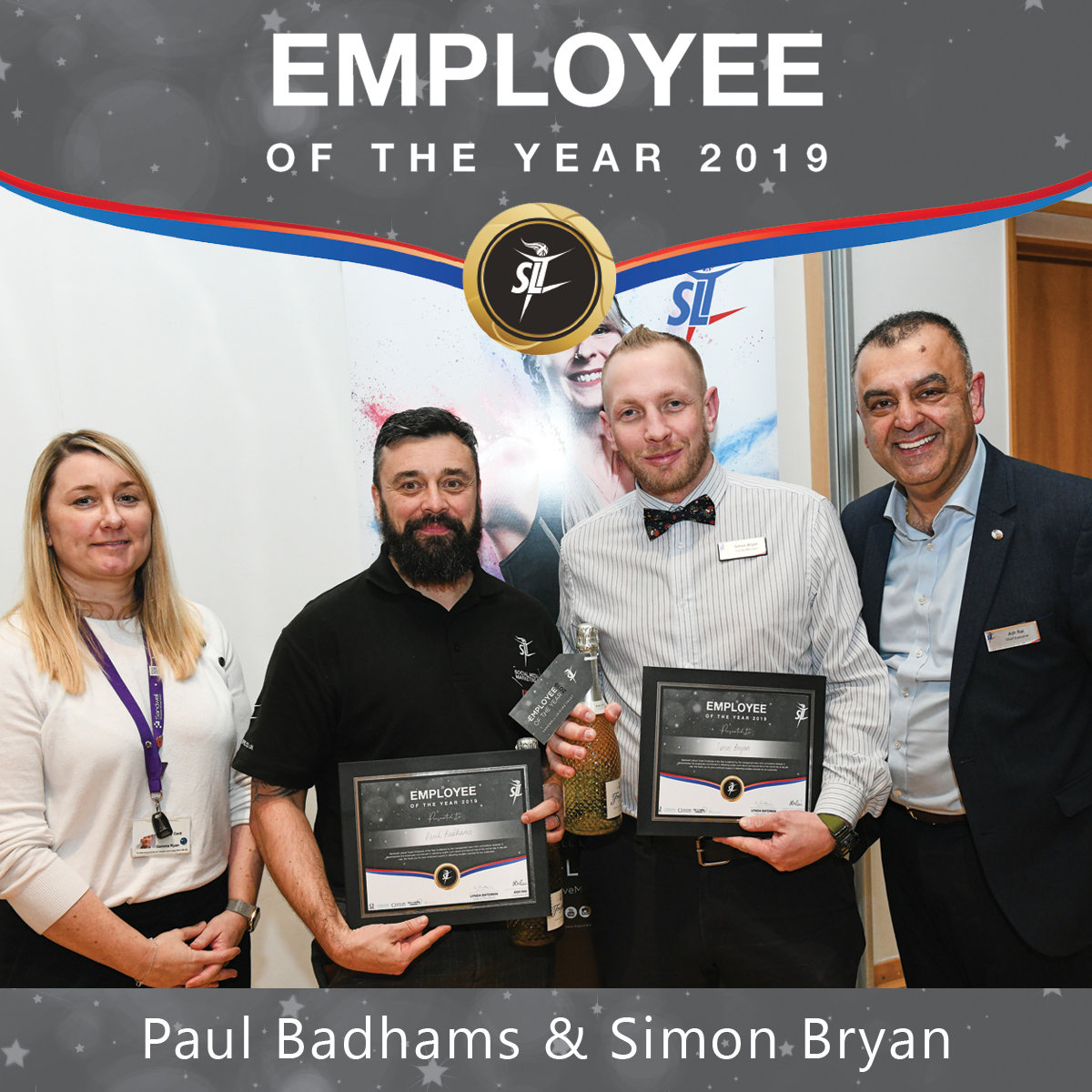 The last Friday before Christmas sees SLT host their annual Staff Learning Together & Staff Conference. After a morning at their own individual sites undertaking essential training all the teams move to Portway Lifestyle Centre for the conference & staff awards.

The employees of the year are nominated by staff throughout the year and the winner is selected by the management team.
Here is a summary of this years winners:-
Paul Badhams and Simon Bryan were awarded for their transformation of the storage at Business Support from Langley Swimming Centre. Paul and Simon had to dismantle the storage and rebuild it in the basement at Business Support, he pair used their own tools and equipment to complete the task which was beyond their normal duties. If this job was outsourced a private company would have charged several thousands of pounds. Their efforts have saved SLT a lot of money and they've created an effective storage system.
Nicola Tranter was nominated twice in one month, her first nomination was for her contribution to Wednesbury Leisure Centre this year. She has been noticed as an individual who will deal with any issue faced immediately and effectively, Co-workers often remark how great she is to work with and how much she contributes to the team.
Nikki's second nomination was for going the extra mile in helping transport an inflatable & trolley from Wednesbury Leisure Centre to Hadley Stadium on her day off. She used her own hired van which saved Hadley Stadium money for both hire and staffing. This is just one example of how she is always willing to go the extra mile for SLT."
Simon Foster is awarded for his work with Benson Community Project during February half term. Despite time constraints Simon worked alongside Benson Community Project to plan a 5 day half term activity camp which had over 400 attendees. The daily sessions included multiple activities with visits from West Midlands Police. The young people took part in football, bike riding and creative activities and were given talks by PC Dave Harnett about the seriousness of knife crime. Great feedback was given from the children, parents and West Midlands Police. Benson Community Project commented 'Simon Foster has been during the half term week (especially) and every week a great advocate for Sandwell Leisure Trust'.
Clare Gough is awarded for her hard work, dedication, positive attitude and persistence in improving the Wednesbury Leisure Centre swim academy. Clare balances her roles as a term time teacher, activity coordinator and trainer examiner. Alongside her Activity Coordinator work Clare has helped out with filling in for swimming teachers numerous times. Filling in for absent teachers means she is able to maintain the programme and reduce the cancellation of classes. To maintain her workflow Clare often works late on an evening and on her lunch break putting all of her hours into the swim academy programme. The centre receives praise from customers for its classes, Clare is credited for keeping the programme successful.

Angela Cowdell and Becky Hodgetts at Langley Swimming Centre are awarded for going the extra mile to ensure the safety of a non-user at the centre. A homeless man had turned up one evening at the centre, he appeared unsteady and disorientated, so he sat outside the centre on the steps. Angela called the police but they were unable to respond as the man wasn't violent and they could not get help via the mental health team. 2 hours later they were able to get his name, after trying but failing to get more information they called an ambulance. Angela and Becky stayed on site until the ambulance arrived and were able to liaise with the ambulance team about the individual before he was taken to hospital. Angela and Becky showed great compassion in getting the man help and persisting despite a few hurdles. They stayed 2 hours past their finishing times to make sure the man was safe."
Anna Giles and Heather Manser are awarded for organising and running the Combatathon at Haden Hill Leisure Centre which helped raise £700 for UNICEF. The 4 hour BODYCOMBAT session was taught by 5 instructors including Anna & Heather with around 60 people taking part. The event was promoted by the duo and attracted customers across SLT and other leisure centres. Participants paid £5 to enter but due to the push by Anna & Heather and the generosity of customers they were able to exceed their target. The money raised will go towards building solar-powered water systems in the Amhara region of Ethiopia.
Simon Bryan is awarded for his exceptional management skills and always going the extra mile to help out his staff. During the summer despite being busy with managing Harry Mitchell & Hadley Stadium alongside the work for Air Mayhem & West Smethwick Park he went out of his way to ensure staff are supported. Simon is always open to suggestions from all staff and is always willing to offer advice. He has built a great rapport with staff and is able to face any task given to him which has been noticed with his work on recent developments.

Tipton Leisure Centre were awarded twice this year could Janet Lewis Oakley, Katrina Jackson and Stacey Hazelhurst please collect their prize along with Lynne Farmer to collect a prize for the centre. Tipton Leisure Centre's first recognition is for their hard work in organising and executing their successful Open Day. The whole team worked hard to create a great community day which took place on Sunday 14th July. The day had a lot of community involvement with a great variety of activities for adults and kids. The staff worked hard with all of the team willing to take part despite it not being their usual hours, due to their efforts there was a great number of interest and new members added to the centre.

The second award was for Tipton Leisure Centre's response to a serious incident at the centre with special recognition going to Janet Lewis Oakley, Katrina Jackson and Stacey Hazelhurst. During an evening shift the staff were alerted to an incident in the changing rooms in which a man was threatening to attack and stab his girlfriend. Katrina went to the changing rooms and overheard the man, acting quickly she pressed the fire alarm to usher people out of the building.
Meanwhile Janet was standing between the girlfriend and the armed man to stop him from attacking her while Stacey also stood by trying to defuse the situation. The other staff on shift continued to evacuate the building and called the police who arrived and took over. Janet & Stacey did an amazing job handling the situation until the police arrived. The ladies did an amazing job assessing the situation and making sure that no one was harmed, this situation could have escalated terribly if it wasn't for their quick thinking. The other staff who were on shift at the time were Lee Gill (who called the police and supervised the evacuation), Christopher Ash, Taylor Hodges, Beth McCann and Rory Rollason. All members of staff handled the situation with professionalism and ensured customers were safe.

Emma Taylor was awarded for her quick and brave actions at Smethwick Swimming Centre. Emma had arrived at Smethwick Swimming Centre to teach a group fitness class when she noticed an altercation between a couple at the entrance to the car park. The couple were in a heated argument which involved pushing and shoving which made Emma concerned for the safety of the woman. Emma stepped in and ushered the lady into the centre where she called the police. Emma assessed the situation and made sure the lady was safe, it would have been easy for her to ignore the situation, but she chose to take action and helped out a vulnerable woman. "
Louise Hingley was awarded in November for orchestrating SLT's first full apprenticeship scheme. Louise has worked from concept to finish to complete this project which will provide young people with recognised professional qualifications that will help to progress their leisure career. Louise has taken direct ownership of the apprenticeship scheme working beyond her day to day to produce a detailed programme. She balanced her usual HR duties with the project proving her brilliant work rate. The SLT apprenticeship scheme has been supported and recognised by the board and is an exciting new chapter for Sandwell Leisure Trust.