Sandwell Santa Dash is back for 2018!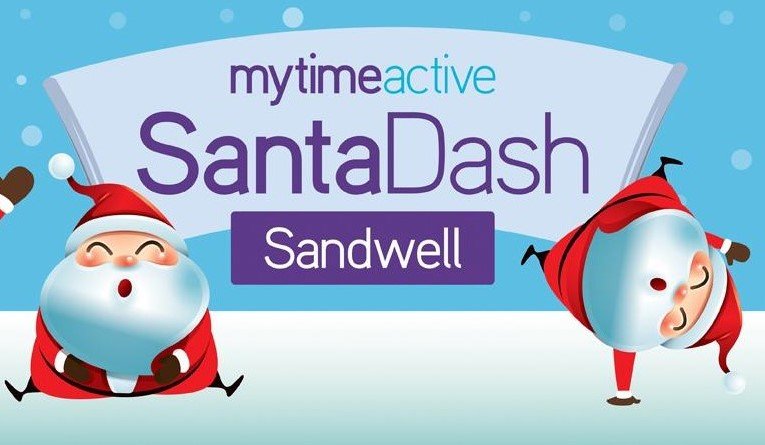 On Saturday 1st December, walk, jog or run through the beautiful Sandwell Valley Country Park as part of the Sandwell Santa Dash, brought to you by Mytime Active in partnership with Sandwell Leisure Trust, Sandwell Council and Sandwell Valley Country park. It's the perfect way for you and your family to get active this Christmas.
What is the Sandwell Santa Dash?
The Santa Dash is a fun, festive, family orientated event over a 2km course through Sandwell Valley Country Park. It's not a race, but a fun run, jog or walk around the course, allowing you to be a part of a fantastic Christmas experience as one of hundreds of Santa's taking part.
After you register and in plenty of time for the event, you will be emailed a voucher for your runner's pack (collection details below) containing your very own Santa suit and race number to be worn on the day.
The event starts with a mass Christmas-themed warmup to get you in the festive spirit, and after you've completed your run you will also receive your souvenir medal!
Where and when?
The Santa Dash starts at 11am on Saturday 1st December at the 'Showground' area of Sandwell Valley Country Park. Please allow around half an hour beforehand to get to the start point and take part in the fun warmup.
Full event details will be provided in the race pack, which will be available for collection before the event.
Who can take part?
The Santa Dash is open to everyone, as long as you and anyone else you are signing up to the event are fit and able to take part.
You can sign a maximum of six people up on each registration form. Under 12s must be accompanied by an adult on the day. Under 3s won't receive their own race pack or Santa suit, but there will be a medal for them at the finish.
The course covers mixed terrain, and although we welcome pushchairs and wheelchair users, please be aware that due to the nature of the course you will be asked to start towards the rear of the participants to avoid bottlenecks.
This is not a serious running race and we recommend you jog or walk the course, taking in the atmosphere of the day.
How do I register and pay?
To register for the event, click the button above for the online registration and payment page where you will be directed to our booking form on Eventbrite. Once you've completed your order your payment will be processed by PayPal. Don't worry if you don't have an account as you can pay using your debit or credit card as a guest user.
2018 entry fees
•Adults: £6.50
•Under 12s: £3.50
•Under 3s: Free
Purchase here: https://www.eventbrite.co.uk/e/sandwell-santa-dash-2018-tickets-51814062255?ref=ebtn
The deadline for registration is Friday 30th November. As there are limited spaces (approximately 500), don't leave it too late as you may miss out. Places will be allocated on a first come, first served basis.
There will be no registration on the day. All registrations must be done in advance as detailed above.
What happens once I've registered to take part?
Once you have registered and paid, you will receive a confirmation email and suit pack collection voucher to be used as detailed below. If you have any questions or problems, please contact us on 0121 366 0966.
When and how do I collect my race pack?
You will receive a collection voucher by email once you've registered allowing you to collect your race pack before the event between Sunday 25th November and Friday 30th November at one of our event partner, Sandwell Leisure Trust's, two designated collection sites, so that you can arrive on the day suited up and ready to go!
Your race pack will also include joining instructions for the event, including final timings, meeting point maps and other details for the day.
What size are the Santa suits?
There are three sizes of suits, which you can request when completing the registration form.
The adult suits are 'one size fits all', but by picking them up in advance you will have time to customise!
This year there are two sizes of junior suits, one suitable for 4–7 years, and the other 8–11 years. Please note these ages are just a guide and not an exact measurement.
There are no suits for the under 3s, mainly because they just won't fit. However, they will still receive a medal upon crossing the finish line and they still need to be included in the registration.