Sandwell Parents for Disabled Children celebrates 10th birthday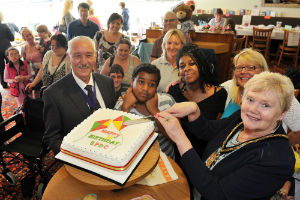 Sandwell Parents for Disabled Children (SPDC) celebrated its landmark in style at a fun-packed family fun day at Tipton Sports Academy on Thursday August 15.
Activities included a climbing wall, wheelchair sports, arts and crafts, competitions and an opportunity to get up close to some exotic animals.
Over 200 people attended the event alongside Sandwell's Deputy Mayor, Councillor Mrs Barbara Price, and the Deputy Consort Councillor, Robert Price.
Diane Rai, Manager of SPDC said: "The day was a huge success, summing up SPDC's aim of families having fun together.
"We all had a fantastic day. It is a huge achievement for SPDC to have reached its 10th anniversary and I am confident that given the amount of support for the organisation we can continue to go from strength to strength.
"My heartfelt thanks go to all who have made today, and the last 10 years, a huge success."
Sandwell Leisure Trust's Sports Development Officer, Mandy Williams, said: "There was a great turnout to the event with children enjoying the wide variety of activities that were available.
"We really enjoyed working with the charity and look forward to working with them again on some exciting new projects that are already being planned."
SPDC is a local charity supporting disabled children and young people to get involved in play, leisure and sporting activities and was started in 2003 by a committed group of parents who wanted the same opportunities for their children as their non-disabled peers.
Since then the charity has gone from strength to strength and now provides a huge range of activities enjoyed by over 200 disabled children and their families.
For more information visit Sandwell Parents for Disabled Children's website or call 0121 544 8880.