Sandwell Leisure Puts Trust in StreetGames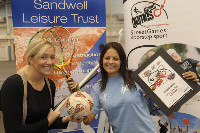 This partnership will see an increase in the amount of sport available to young people in disadvantaged communities across Sandwell. StreetGames has been granted the Inspire Mark for its Legacy Leaders Programme, granted by the London Organising Committee for the Olympic and Paralympic Games.
The sessions on offer will provide a variety of sports, influenced by StreetGames' doorstep philosophy of delivering sport at the right time, in the right place and for the right price to fit the specific needs of each community.
Sandwell Leisure Trust will also utilise The Co-operative StreetGames Young Volunteers Scheme. This programme allows 16-25 year olds to gain sports qualifications whilst volunteering at local projects. The aim of this is to inspire young people from the area to become future sports leaders in their own communities.
Sandwell Leisure Trust and StreetGames can expect a successful partnership together, with young people throughout the area being true beneficiaries. These sessions will hopefully encourage more young people to particpate in sport regularly, leading happier and healthier lives.