Sandwell Junior Girls Athletics Team Win Award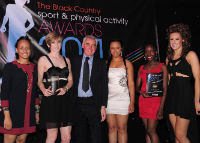 The annual awards recognises individuals and clubs for significant sporting achievements.
The team, coached by Sandwell Leisure Trust's athletics coach Howard Court, beat off tough competition from neighbouring teams throughout the Black Country.
Marketing Manager, Mark Wildman, said: "This award recognises the significant success and achievement of athletics in Sandwell by this team and all the hard work and dedication by SLT's Athletics Coach Howard Court and everyone involved who support them.
"Once again there was an extremely high standard of nominations from across the Black Country and we are delighted to see further recognition for Sandwell."
The team came from the Girls in Athletics Programme set up in 2005. The programme was developed to engage girls back into the classroom through sport.
For more information about the Girls in Athletics Programme, contact the Sport Development & Physical Activity Team on 0121 506 4980.