Safer 6 – Let's end hate crime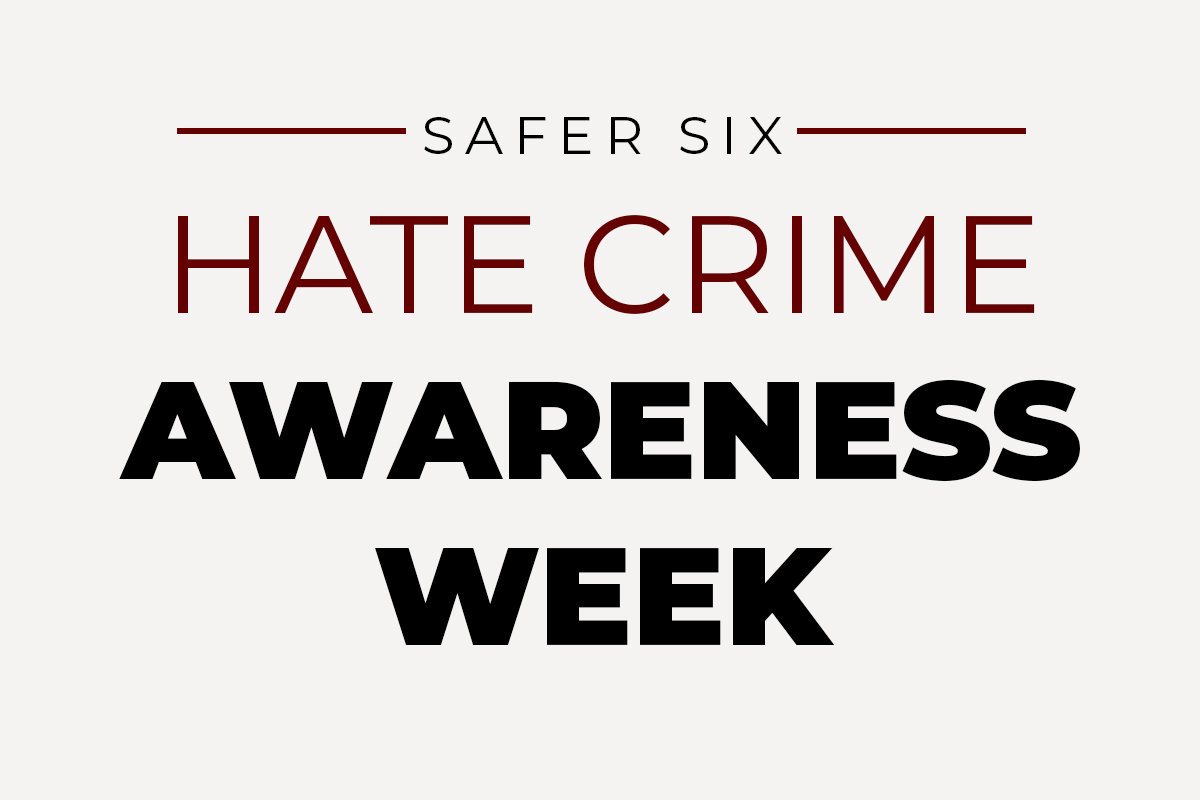 Sandwell organisations are taking a stand against hate crime as part of the Safer 6 campaign for Hate Crime Awareness Week 2020 which is now under way.
The week will raise awareness, challenge perceptions and promote tolerance and respect.
Throughout this week the Safer Sandwell Partnership, which includes Sandwell Council, Sandwell Police and many other organisations, will raise awareness with local community organisations by supporting them with training on hate crime and helping them to identify and be able to effectively support victims.
This will include access to resources and guidance as well as workshops for third party reporting centres in the community and eLearning training packages.
Hate Crime Awareness Week is the key theme for the fourth week of Sandwell's six-week Safer 6 campaign.
What is hate crime?
A hate crime is hostility against a person or a group of people where they have been targeted because of or their perceived:
Race

Faith

Sexual Orientation

Gender

Disability

Any other characteristic that is different to that of the perpetrator's or that which the perpetrator thinks is different
The council's dedicated Hate Crime webpage at www.sandwell.gov.uk/hatecrime provides more information on what kind of crimes are hate crimes and what you can do to help victims of hate.
Councillor Farut Shaeen, Sandwell Council's cabinet member for living healthy lives, said: "Hate Crime Awareness Week is about improving public awareness of the nature of hate crime and how to respond to it. Hate crime doesn't spare or choose who it damages. One thing it certainly does is destroy the lives of those who are its victims.
"We all have a responsibility to stand up against hate crime and support the victims."
Sandwell Council Deputy Leader Councillor Maria Crompton said: "It is not just victims of hate crime who can report it; communities need to play their part too. By reporting it, we can stop hate crime together. We can create a safer borough without discrimination and show to the world that hatred and intolerance have no place here."
How do I report a hate crime?
There are many ways for victims and witnesses to report a hate crime, for further information visit www.sandwell.gov.uk/hatecrime
Police
In an emergency whereby you believe you or someone else in in immediate danger or at risk of harm, call the police on 999
In a non-emergency, you can report a hate crime by calling the police on 101.

Crimestoppers
You can pass on information about hate crime offenders by calling Crimestoppers on 0800 555 111. This is anonymous and you will not be asked for your personal details.

Online
You can report non-emergency incidents through the West Midlands Police website at www.west-midlands.police.uk
Hate crime can be reported anonymously by visiting the Crimestoppers website at www.crimestoppers-uk.org
You can also report hate crime on the True Vision website at www.report-it.org.uk anonymously.