Portway news makes groups' day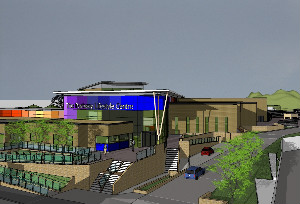 The Community Ambassador's Forum is made up of people with disabilities, sensory impairment, carers and representatives from voluntary and community organisations. They work closely with policy makers to make sure adult social services are influenced by what local people want and need.
Members of the Portway Lifestyle Reference Group, who also attend, had asked for an update about Portway to share with the wider group.
Sara Whitehouse, Communications and Engagement officer within People theme of Sandwell Council, and Saeed Nasser, dedicated Portway reference group member, attended the meeting at Beeches Road Enterprise centre, West Bromwich to give the presentation.
The announcement that Portway was going ahead and an update on the project was well received, with some members of the group standing up to give applause.
As well as being able to look at the latest artist's impression of how Portway Lifestyle Centre will look when complete, forum members have been able to 'get to grips' with the RNIB tactile plan recently, study the 3D model, and view more detailed plans of the interior.
Feedback from the group was very positive; with renewed interest in taking part in the Reference Group to help make sure that Portway Lifestyle Centre will be a place that is welcoming to all.
Community Ambassador comments:
"This is simply excellent news, The Portway Lifestyle centre project is clearly all about 'normalising' services for people with disabilities, not setting them apart. Wonderful!" (B.F, Agewell)
"It is amazing! I really want to get involved now. To know that staff will have special training about disabilities is really encouraging for me, as an active gym user already!" (BT, Community Ambassador)
"Please pass on our thanks and congratulations to Stephen Horsley and all the project team, who have worked so hard to help make this happen and kept us informed about progress along the way, face to face and in writing. We really appreciated that" TA, Chair of SVI (Sandwell Visually Impaired).