Portway Lifestyle Centre welcomes its first customer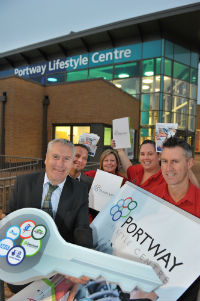 The £18m centre based on Newbury Lane, Oldbury opened for its first gym session and fitness class at 7am.
The centre's first ever customer was greeted by Councillor Steve Eling as he opened the doors to the public.
Steve Cartledge, Sales Director at Weatherite Manufacturing Ltd in West Bromwich, said: "I've had a break from being at the gym so today is the start of my new fitness regime."
Councillor Steve Eling said: "I'm delighted to be opening Portway Lifestyle Centre today and welcoming in the first customers to use the centre.
"Lots of people have already taken out membership and I'm sure more will join as well as those that come as casual users."
The Portway Lifestyle Centre is the result of a partnership between Sandwell Council, Sandwell Leisure Trust, Sandwell and West Birmingham CCG and NHS England, Portway Family Practice, Sandwell LIFTCo and Sport England.
The centre will enable the people of Sandwell to have access to improved standards of healthcare and leisure facilities in a specially designed, fit for purpose building, including a four-court sports hall, a hydro-therapy pool for rehabilitation and other therapeutic purposes, a sensory room, a climbing wall, dance studio (hosting 50 fitness classes each week), 114 station fitness suite and a full-sized, all-weather pitch for senior, junior and 5-a-side football. In addition, a large multi-purpose activity hall and a life trail for gentle exercise has been created for those requiring gentle exercise and reablement. There will also be a café and ample parking on-site.
The centre will open from 7am to 10pm weekdays and 7am to 6pm at the weekend.
For more information visit the Portway Lifestyle Centre page or call 0300 012 0121.