Portway Lifestyle Centre is officially opened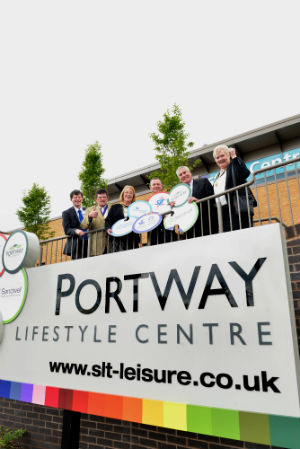 The Worshipful Mayor of Sandwell, Councillor Linda Horton, unveiled a plaque after opening speeches and performances by Adults Services and Oldbury Academy.

The Newbury Lane centre serves people with and without disabilities equally, offering health and leisure services under one roof.
Portway Lifestyle Centre is the result of a partnership between Sandwell Council, Sandwell Leisure Trust, Sandwell and West Birmingham CCG and NHS England, Portway Family Practice, Sandwell LIFTCo and Sport England.
The centre enables the people of Sandwell to have access to improved standards of healthcare and leisure facilities in a specially designed, fit for purpose building.

Leisure facilities include a four-court sports hall, large multi-purpose activity hall, hydrotherapy pool, sensory room, indoor climbing wall, dance studio (hosting over 40 fitness classes each week), 114 station fitness suite and a full-sized, all-weather pitch for senior, junior and 5-a-side football.

In addition an outdoor Life Trail for gentle exercise has been created in the grounds of the centre.
There is also a community café and ample parking on-site.
Customers can pay as they go for activities or join the centre's membership scheme.

Portway Lifestyle Centre also houses a GP surgery, the Portway Family Practice, which will replace the Tividale Family Practice later this year.
The entire project was aided by £1.5 million of National Lottery funding from Sport England's Olympic and Paralympic legacy programme, Iconic Facilities.
Councillor Steve Eling, Sandwell Council's deputy leader, said: "It is fitting that Councillor Linda Horton is officially opening the centre in her mayoral year because she was instrumental in its development from the beginning. The centre joins other top class new leisure facilities we have invested in for the benefit of the community."
Simon Murphy, Sandwell LIFTCo's Chair, commented: "We are proud to be associated with this brilliant building. Its state of the art facilities will make a real difference to the lives of all its able-bodied and disabled users".
Charles Johnston, Sport England Property Director, said: "The Portway Lifestyle Centre is a fantastic facility giving thousands of local people of all abilities the chance to get involved in sport. By investing in state-of-the-art facilities that provide a good sporting experience, we're helping more people developing a sporting habit for life."

Dr Arun Saini, partner at Tividale Family Practice, said: "The move to Portway allows us to continue providing first class health care, and is a great opportunity for the Practice to innovate new ways of health care delivery. It offers our patients convenient access to state of the art facilities that can help them lead a healthier lifestyle. The combination of health and leisure in one building will have a major impact on the health and wellbeing of our local patients."

Paul Slater, Chief Executive of Sandwell Leisure Trust, said: "SLT is delighted with the popularity of the centre and the response from the local community.
"The inclusive facilities in the centre are attracting increased usage by people with disabilities in Sandwell."
For more information on Portway Lifestyle Centre and for timetables and bookings, please call 0300 012 0121.