Portway Lifestyle Centre celebrates 'Excellent' accolade for inclusivity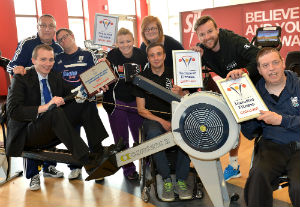 The IFI Mark is an accreditation scheme operated by the Inclusive Fitness Initiative (IFI) which is a national programme that supports leisure and fitness facilities to become more inclusive and accessible. The IFI Mark is assessed every three years and accredited at one of three levels from entry level to excellence.
The 'excellent' level is awarded to facilities who are proactive on their journey to be more inclusive and attract disabled customers by providing a better customer experience.
The IFI Mark recognises the achievements and commitment of leisure facilities who enable disabled people to become physically active. The accreditation provides an inclusive platform for disabled and non-disabled people to be active together.
Portway Lifestyle Centre's gym is equipped with a range of IFI accredited fitness equipment with highly trained gym staff who are experts in providing advice on adapted physical activity.
Outside of the gym, all other staff at Portway Lifestyle Centre, including support workers from Sandwell Council's Adult Services, have received various disability awareness training in order to provide the best customer service to all users visiting the centre.
The centre was designed with accessibility and inclusion at the forefront consulting with local disability groups to represent, discuss and support the ongoing development of this new facility to serve the wider community.
Accessibility features at the centre include; disabled parking, an easy access ramp and walkways, a tactile map of the centre, colour contrast and Braille signage, power assisted doors, Changing Places changing facilities, hearing induction loops, a Wayfinding audible navigation tool and pool and changing room hoists.
Sandwell residents who have a disability and receive benefits can access the 'Portway Pass' which is a concessionary membership to use the centre's facilities during off-peak times.
Sandwell Council's Cabinet Member for Health and Wellbeing, Councillor Paul Moore, said: "Portway Lifestyle Centre is a landmark leisure facility which is fully inclusive for all residents.
"It is fantastic to see a Sandwell leisure centre recognised for its inclusivity alongside only five other facilities in the whole country."
Chief Executive of Sandwell Leisure Trust, Paul Slater, said: "We are delighted that Portway Lifestyle Centre has been recognised for its inclusivity and accessibility and urge more people to make use of the wide range of facilities on offer.
"Sandwell Leisure Trust is proud to be rated as one of the top facilities for inclusivity in the country."
For more information contact Portway Lifestyle Centre on 0300 012 0121.