Portway hosts GB Wheelchair Rugby Team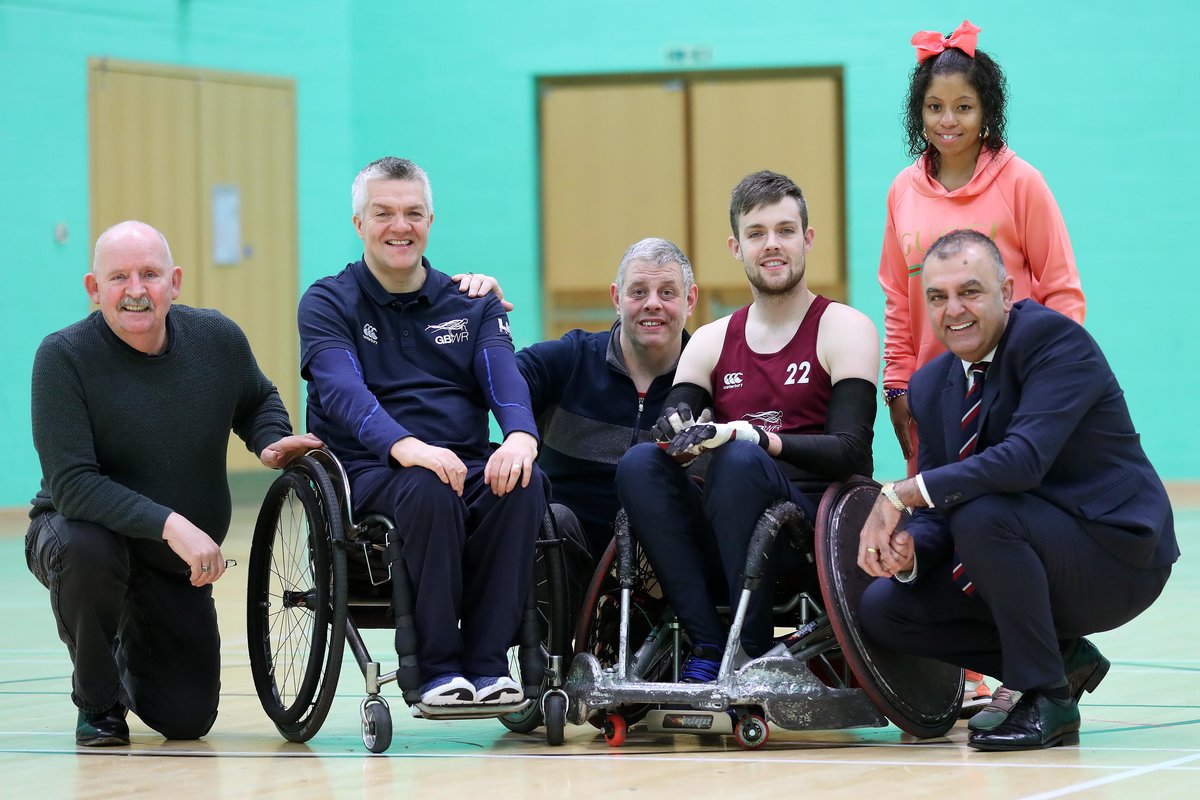 The award-winning Sandwell Leisure Trust (SLT) facility on Newbury Lane, which is a centre of excellence* for people with disabilities, was the chosen venue for a four-day camp geared towards an international tournament featuring world champions Japan, 4th ranked Canada and 7th ranked France – GB has a world ranking of 5th.
It also provided an excellent opportunity for service users with disabilities, who attend Portway on a daily basis, to see and experience first-hand some highly successful athletes in full flow and who have previously represented their country in the Paralympic Games.
Portway Lifestyle Centre Manager, John Harling, explains: "Our regulars loved it and found it quite inspirational, because these athletes are really at the top of their game and just prove that almost anything is possible with a can-do attitude and spirited determination.
"It's a natural fit too, because we're all about promoting competitive sporting opportunities for people with disabilities, while the game of wheelchair rugby also strives to be inclusive, accessible and supportive of all who wish to be part of the sport."
Councillor Bill Gavan, Sandwell MBC's cabinet member for leisure, said: "We're delighted that the Great Britain Wheelchair Rugby team chose the Portway Lifestyle Centre for their pre-tournament 'training camp' and that they've found their experience here so beneficial. We're extremely proud of Portway and what it offers. I'd like to wish them the very best of luck as they gear up for the tournament next month and hope they bring home a medal(s)."
Paul Shaw, who hails from Cradley Heath, is the Head Coach for GBWR and many years ago he began his career working at the local Haden Hill Leisure Centre on Barrs Road. He says: "SLT has been very accommodating with nothing too much trouble, plus Portway is an excellent, purpose built facility that's really geared up to the type and standard of training we require.
"It was great to showcase what we're about to the watching crowds too, because our sport is rapidly gaining momentum and we're amongst the very best in the world now. The March tournament we trained for here will be supercharged and brutally competitive, but will really stand us in good stead for the European Championships in Denmark in August, when we're defending our title."
Wheelchair rugby is a London 2012 legacy success story and GBWR has grown the sport from a domestic league with a single division comprised of just seven teams, to one which now has three divisions providing competition opportunities for 20 teams. This domestic league is internationally recognised for its high level of competition.
GBWR in conjunction with the charity 'Help for Heroes' also provides the coaching and support for the Invictus wheelchair rugby team, where Great Britain took the gold medal in 2015.
*Portway is one of the very few 'Excellent' accredited Inclusive Fitness Initiative (IFI) facilities in the Midlands. By complying with the 'IFI Mark' standards Portway Lifestyle Centre publicly delivers on its commitment to quality of service to disabled customers, plus inclusion and equality for all members to participate. The IFI Mark is fundamental in addressing inequality in physical activity; reaching inactive populations and raising awareness of the benefits of exercise, as well as creating demand.