Play Netball with the Girls at Haden Hill...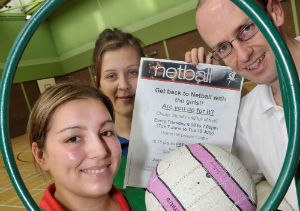 The netball sessions take place on a Tuesday evening from 6.00pm – 7.00pm and are a great way to get fit and in shape for summer.
To kick off the sessions the first 15 places each Tuesday are FREE for 6 weeks from Tuesday 7 June until Tuesday 12 July. After the free places are taken, each session costs just £3.20 or £1.60 for concessions.
The sessions are designed for people who perhaps used to play and have not played for a while or those who have always wanted to try netball. The sessions provide lots of playing time together with some coaching and skills practices.
Netball is a great way to get and stay fit and get in shape for summer with like minded people.
Just turn up at Haden Hill Leisure Centre on a Tuesday evening at 6.00pm to take part.
For more information contact 0300 012 0121.