Participants celebrate Couch to 5K graduation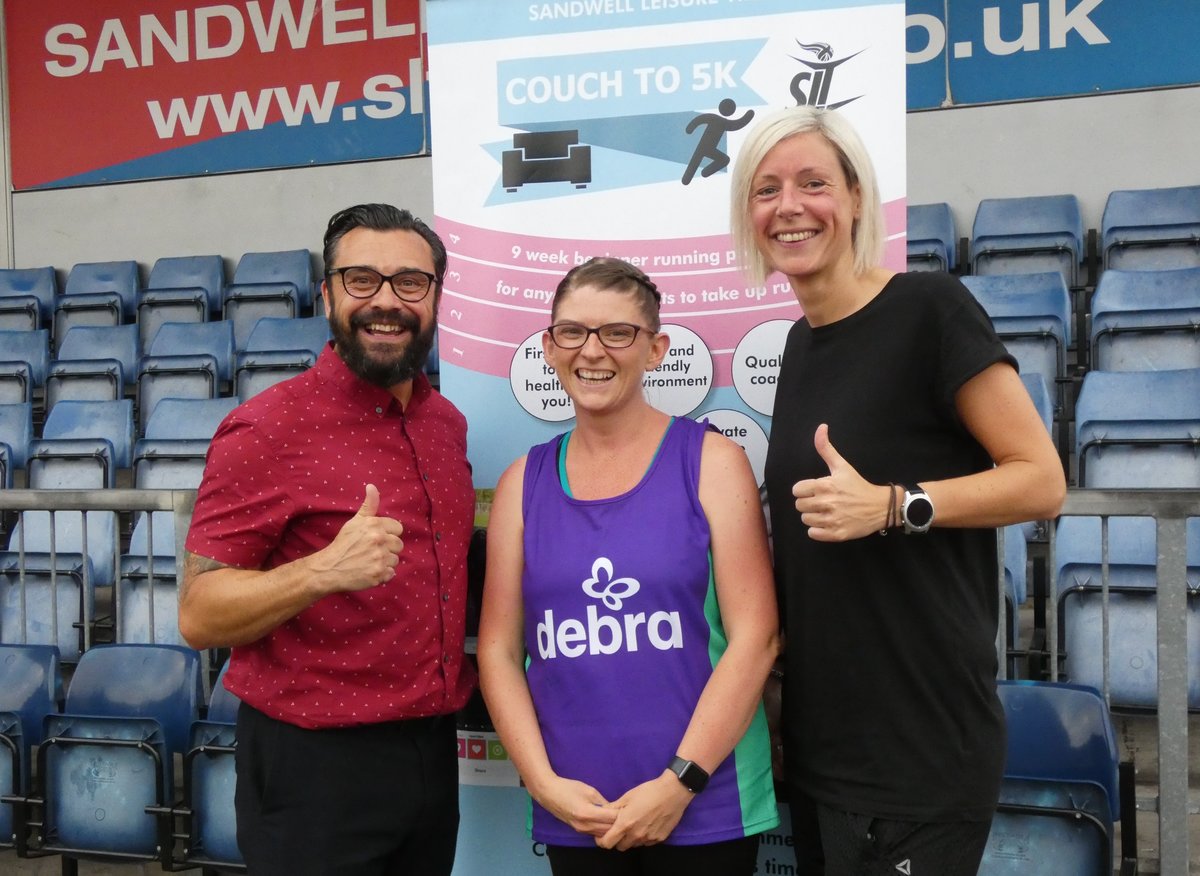 An amazing 72 participants completed SLT's Couch to 5K held at Tipton Sports Academy on Wednesday 18th July. It was a record breaking evening in terms of numbers of finishers but also the retention rate of being twice above the national average.
Many of the participants had brought family & friends along to watch them completed the 12 ½ laps of the athletics track creating a brilliant community atmosphere.
Participants were keen to share their experiences after finishing to try and help more people take that first step towards a new healthier lifestyle.
Jenna Phillips commented " Yesterday I finished couch to 5k and 'graduated' from the coached course I completed with Sandwell Leisure Trust at Tipton sports academy. On the first class, I couldn't run for 1 minute without stopping I was so unfit. However, last night, only 8 weeks later, I ran for 5.27km (3.27 miles) without stopping. Not once. I was slower than a tortoise in peanut butter, but I ran all the way.
I'll be honest, there were tough moments when I thought I couldn't do it, but the camarade... and support of #teamtipton got me through.
I wouldn't be where I am without this course, I'd have probably given up at week 4/5. But now, I can run 5k. Give it a go, you'll be amazed at what you can achieve if you believe in yourself and join a group activity!"
Kate Hitch also added " When I signed up it was to prove a point that in 9 weeks there was no way I could go from a complete non runner to running 5k. Wow! How wrong I was! The course has completely changed how I look at my fitness, I'm addicted to running and will become a regular to the track at the sports academy now.
My cardio has improved drastically, my recovery rate... is amazing and my general fitness has come on in leaps and bounds.
None of this would've been possible without the fantastic staff that were involved and of course to the fabulous coach Hayley, who was constantly cheering us on and motivating us any way she could. She is a credit to the SLT team!
If anyone is considering trying the course I strongly recommend you go for it, it's amazing and will change your life. Not to mention the other awesome things that the Sports Academy and SLT have to offer. Check it out, you won't regret it. "
Neil Duggan & Paul Badhams from SLT's Marketing & Business Development team commented " we are delighted with the continued success of these programmes. To get 70 complete beginners to run 5K in just nine weeks in something all the team are very proud of. The participants were very a determined team and didn't let the recent hot weather to become an excuse to miss any sessions. This was a fantastic event for the community of Tipton."
Why not become part of SLT's Couch to 5K story by registering for our final programme of the year hosted at the fantastic Old Hill Cricket Club and lead by our Haden Hill Leisure Centre Fitness team. 50+ places have been sold already so don't miss out. Click here to book today.