Olympic Torch Comes to Sandwell for 2012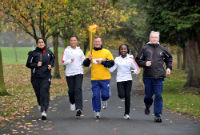 The route that the Olympic Flame will be taking on its way to London 2012 was announced earlier today (Monday 7 November).
Residents will be able to cheer the flame on as the Olympic Torch Relay comes through the streets of Oldbury, West Bromwich and Smethwick on Saturday 30 June 2012.
To celebrate the announcement, several of Sandwell's up and coming sports stars, including two athletes from the Sandwell Junior Girls Athletics Team, charity marathon runner Blind Dave Heeley and future Paralympic hopeful Ella Booker, joined school children and a dhol drummer this morning at the Olympic-supported AdiZone outdoor gym in Victoria Park, Smethwick.
Sandwell's town crier Adrian Holmes announced the towns on the route.
Coaches from Sandwell Leisure Trust put on multi-sports activities for children from local school, Victoria Park Primary.
Paul Slater, Chief Executive of Sandwell Leisure Trust, said: "This is a great opportunity for Sandwell. We hope that it inspires more people to get active and enjoy physical activity, culture and sport."
Oldbury-based triathlete Jodie Stimpson is hoping to represent Great Britain in the 2012 Games and trains at Sandwell Leisure Trust-run Langley Swimming Centre.
She said: "I'm really looking forward to the challenge of getting to the Games and onto the start line. This would be my first Olympics and it's made even more special by being held in London.
"It's amazing to hear that the Olympic Torch will be coming through my home town. This will hopefully attract more attention to the sport of triathlon and to sport in general in Sandwell."
For the latest information on activities and events taking place in the run up to London 2012, visit the dedicated Sandwell 2012 website which launched earlier today.