New sessions on SYNRGY360 at Portway Lifestyle Centre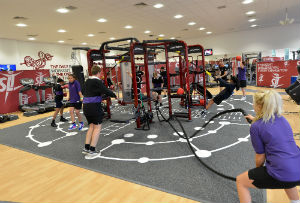 Synrgy360™, by Life Fitness, is about more than just working out. This revolutionary concept provides limitless opportunities to train smarter, better, and more effectively.
This amazing fitness system combines various total body, dynamic exercises into a single facility.
Our fitness crew can train groups of up to 16 people at once in our 360 fitness sessions, providing you with endless options of different exercise methods to target every muscle group.
360 Fitness provides a full-body workout for people of all fitness levels. It operates like a fitness playground, where the fitness crew can mix and match seemingly unlimited exercises into one challenging and fun workout session led by our inspiring instructors.
Synrgy360™ facilitates 8 of the top 20 current fitness trends, such as:
1. Functional fitness
2. Strength training
3. Exercise and weight loss
4. Personal training
5. Core training
6. Group personal training
7. Boot camp
8. Sport-specific training
Site Fitness Co-ordinator, Kevin Daly, said: "Join us in the gym and experience small group training evolved!
"People who train together improve together and achieve their goals quicker than people who workout alone.
"Even if you're short on time 360 Fitness is for you as each session are 20 minutes long."

Group Training Times
Monday - 9.00, 17.30, 19.30
Tuesday - 9.00, 17.15, 20.00
Wednesday - 10.30, 16.30, 18.30
Thursday – 7.30, 10.30, 17.15, 20.00
Friday – 7.30, 10.30, 17.00, 20.00
Saturday - 10.30, 14.45
Sunday - 10.30, 14.45

This is inclusive with Leisure Pass Gold or available at the regular gym pay and pay price. If you are already working out in the gym, come and join in.
Watch a Synrgy360 in action in this video.