New Season, New Start at Tipton Town FC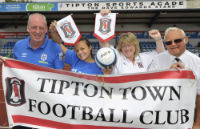 John Cross, who has been associated with the club for over 35 years, has returned as chairman and is determined to restore faith within the local community following adverse publicity.
Mr Cross said: "The club is striving to rise above the recent negative publicity wrongly linking it to the illegal activities of the previous chairman.
"In the interim several players have moved to pastures new but our new management team led by Craig Harris has signed a worthy group of young players and we are confident the club can rebuild its reputation in time and become a force again."
The reserve team will be run by new manager Simon Evans.
The club's very active community development scheme will continue to develop offering opportunities for 7 year olds and above to get into fotball.
For more information contact Ian Wheale on 07944 075504.
Sandwell Leisure Trust's Sport Development & Physical Activity Team, based at Tipton Sports Academy, have provided assistance with funding applications and are actively involved in the community development programme.
Physical Activity Development Officer Lisa Rashid and Get into Football Officer Mick Tuohy said they are delighted to be able to offer their professional support.
For more information on how Sandwell Leisure Trust can help support community clubs contact Sandwell Leisure Trust on 0121 506 4980.