New Aqua-Lite class launches at Portway Lifestyle Centre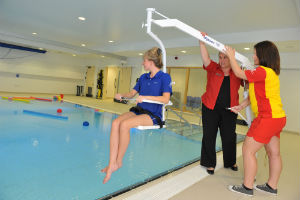 The class, which takes place in the Newbury Lane based centre's Hydrotherapy Pool, starts on Wednesday October 30.
They will take place every Monday and Wednesday from 8pm-8.45pm.
Aqua-Lite is a gentle exercise session in the water. The class is aimed at those that do not do any regular exercise and are looking to improve their mobility and flexibility.
Participants are advised to bring a bottle of water with them to the class to stay hydrated.
Accessible changing rooms and showers are available.
Leisure Pass discounts apply.
Anyone that wishes to take part will need to make staff aware of any current health issues and complete a form. Please contact the centre for more details on 0300 012 0121 (option 1, then option 5, then 1, and then 1 to speak to reception).