New AQUA Classes for All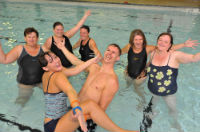 Sandwell Leisure Trust is now offering a range of AQUA classes so that there is now an AQUA class for everyone.
Monday, 8.30pm
A unique class which uses different pieces of equipment to provide a resistence training workout in the water. Strengthen, condition and support your muscles in this amazing full body workout.
Tuesday, 8.30pm
Take your dance floor moves into the water! Packed full of sizzling and inspiring moves, AQUA Dance will soon have you boogying your way to a fitter and healthier you.
Wednesday, 6.45pm
An explosive and energetic class combining a mix of martial arts, combat and kick boxing - all in the water! This class helps you to improve strength and stability finishing with T'ai Chi to help improve flexibility.