Natalie goes the extra mile on her Couch to 5k journey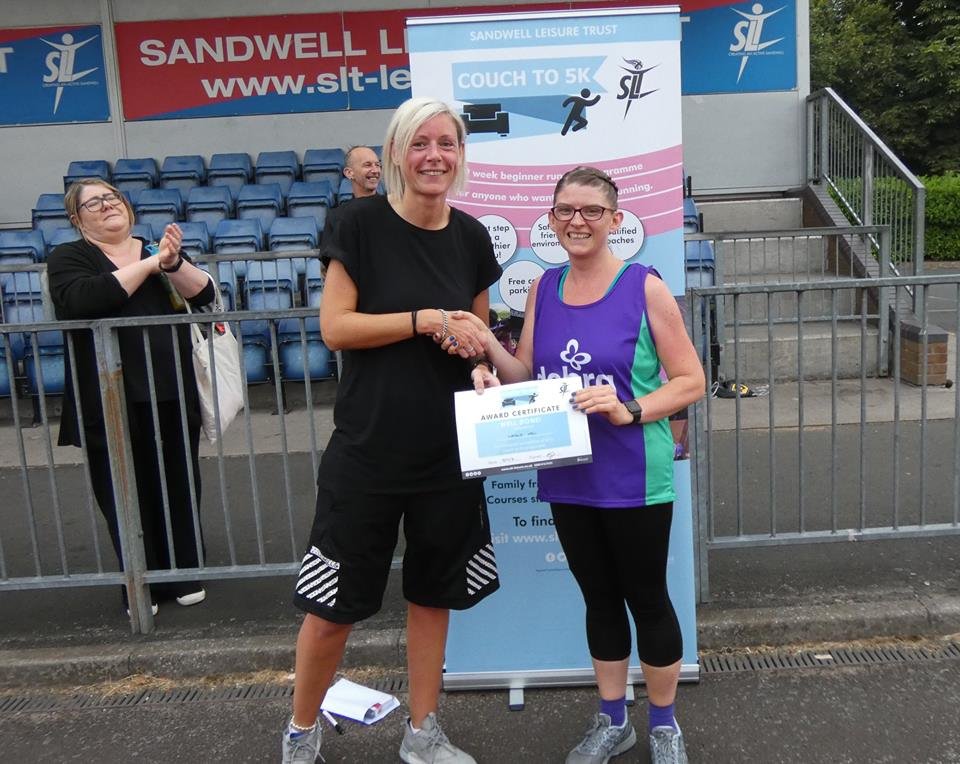 A Tipton lady has progressed from 200 to 5,000 metres and raised nearly £900 for charity after taking part in Sandwell Leisure Trust's (SLT) record breaking Couch to 5K initiative.
Natalie Hall (age 40) from Princes End completed the nine-week course that sees non-runners start and collectively build up to managing 5,000 metres together – and enabled her to generate £882.56 in sponsorship monies for genetic skin condition charity, DEBRA.
Miss Hall 'graduated' along with 71 other participants when completing 12.5 laps of the track at SLT facility Tipton Sports Academy on Wednesbury Oak Road. It was a record breaking occasion in terms of numbers of finishers, but also with a retention rate twice above the national average – and with family, friends and work colleagues cheering them on it created a superb community atmosphere.
Natalie (who is Head of English at Crestwood School in Kingswinford – part of the Invictus Multi Academy Trust) explains: "It's been a truly amazing experience. Week one I could barely plod along for a minute, so to run a whole 5K without stopping – and really enjoy it – is so satisfying. The SLT team have been phenomenal; they're so supportive and really helped with confidence and motivation!
"What's more, my body shape has changed completely, my fitness levels have improved dramatically, my asthma has improved no end, plus I have made some amazing friends. To top it all off I've raised a decent amount for a charity close to my heart. A close friend's little boy was born with Epidermolysis Bullosa (EB), which causes the skin to blister and tear at the slightest touch. In the first few months of his life he's already undergone three surgeries and is still in hospital.
"They are a small charity with a huge job to do, because there is currently no cure for EB, but the support and respite care they offer to families like that of my friend is brilliant, plus the research they do is vital for enhancing the quality of life for EB sufferers, as well as their nearest and dearest."
Paul Badhams from SLT's Marketing & Business Development team says: "Natalie's progress and determination has been inspirational and she is living proof of the success of these programmes. Plus, to get 70+ complete beginners to run 5K in just nine weeks in something all the team are very proud of. The Tipton Sports Academy participants were very a determined group and didn't let the current hot weather become an excuse to miss any sessions. This was a fantastic event for the community of Tipton too, as the support and encouragement they received was truly amazing."
Natalie continues: "It's been a life affirming experience and having turned 40 recently I wanted to make a permanent lifestyle change, as well as help others. I was always active in my younger days, but lost my physical fitness and piled on the pounds after my father died, so having lost 4.5 stone in a year at Slimming World, this programme was a bit of a light bulb moment for me.
"As a result of the weight gain I developed severe asthma, and despite losing weight I was still unfit and breathless. Learning to run seemed the ideal solution and although being scared at first it quickly became clear that Couch to 5K was something special. With the fantastic help and support from Paul and coach Hayley Birch I was suddenly running 10 minutes without stopping, then by week seven 30 minutes, until I finally gained the confidence to realise that the 5K was within me.
"I know I will continue to run because my asthma has improved dramatically. I don't get breathless anymore because the SLT team taught me to pace myself, plus I don't even need my inhaler whilst running now. My body shape in general has also changed dramatically; my arms, legs and torso have become much more toned and it's such a great feeling to be active and fit again"
Stop Press: You can become part of SLT's Couch to 5K story too, by registering for the final programme of the year – starting 9th September - hosted at Old Hill Cricket Club in Cradley Heath. It will be lead by SLT's Haden Hill Leisure Centre fitness team, but 150+ places have been sold already so book now at
www.slt-leisure.co.uk/products/offers/couch-to-5k-family-friendly/
Pic shows l to r: Natalie Hall and Couch to 5K coach Hayley Birch