More Aqua Lite at Portway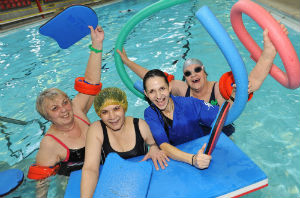 Aqua Lite is a water based gentle exercise session. Similar to an Aqua-Fit class but at a gentler level. This class is ideal for people with disabilities have limited mobility or who are just getting back into exercise.

The Aqua Lite session at Portway Lifestyle Centre takes place in the Hydrotherapy Pool. People with medical conditions should speak to their GP before using the hydrotherapy pool
Aqua Lite is now available on Monday, Tuesday, Wednesday and Thursday's from 8pm to 8.45pm. Sessions cost just £4.70 or inclusive with One Card membership. No pre-booking is required.
The centre is fully inclusive with excellent free parking and excellent fully accessible changing facilities.
Call Portway Lifestyle Centre on 0300 012 0121 for further details.