Moms-to-be Make a Splash...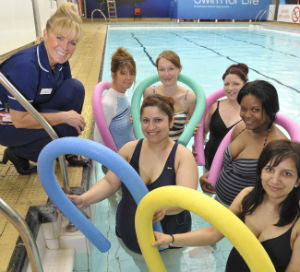 During the class a qualified midwife takes expectant mothers through a range of soothing and gentle exercises which can offer many health benefits during pregnancy.
The class takes place every Thursday at 11am during term time at Smethwick Swimming Centre, Thimblemill Road.
Centre Manager Chris Webley said: "This class is a great way to exercise, relax and socialise both during and following pregnancy."
"The lessons are a great way for women to enjoy themselves in a supportive environment where they will be made to feel totally at ease."
For more information visit www.slt-leisure.co.uk or call 0300 012 0121.