Meet the Members: Daz and Craig team up to cycle for charity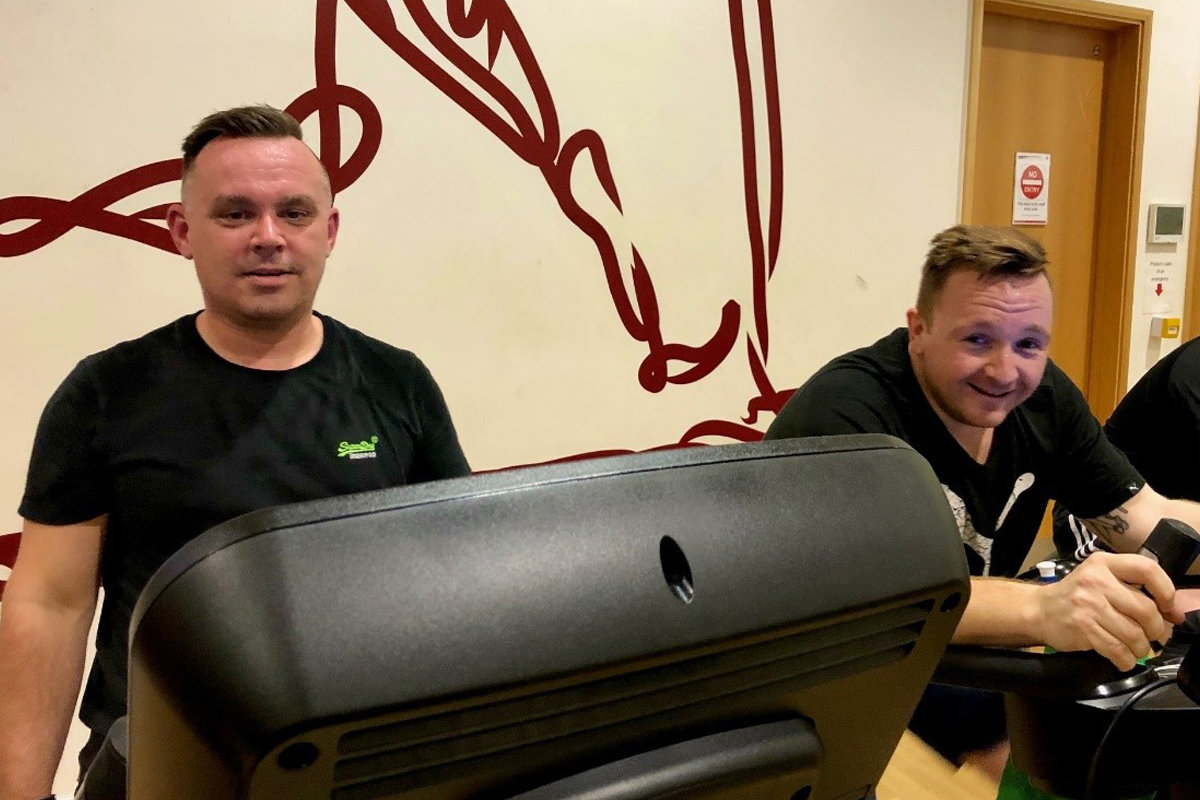 Daz and Craig are Portway Lifestyle Centre members who work, work-out and fund-raise together! This November they cycled 30 kilometres a day and are always looking for their next charity to support, find out more about their charitable efforts and fitness below:
Daz

I joined Portway Gym when I moved into the area. I used to be a member at Tipton.
I joined to keep on top of my weight and being healthier (getting old). Although I play 5 a side once a week it was never enough exercise. I used to do quite a lot of off-road cycling but due to a change in my work hours I decided it was quicker to pop in the gym for an hour rather than spend a few hours out on my bike.
I mainly use the cardio equipment at the gym mainly the X-Trainer, rowing machine and sometimes the weight machines. I used to do the classes at Tipton (mainly abs). I have tended to shy away from the classes at Portway due to not feeling fit enough and my own insecurities. Although now Craig is a member we are already talking about doing the Cycling classes. Having someone to go with will make it easier for me!
Our challenge was decided last minute this year. Last year we did the same, 26k everyday of October. This year we (Craig) decided to add a bit extra every day. Last year we raised £730 which 50% want to Scope and 50% went to Cancer research.
Below is last year's campaign: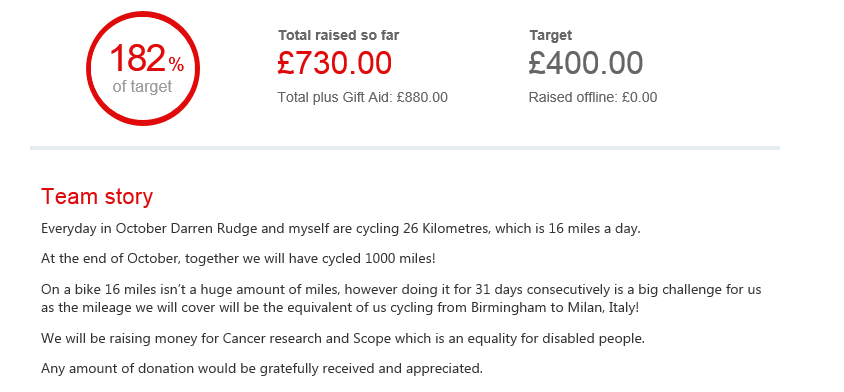 We both work for Virgin Media and we get 1 charity day off a year, we thought we would make the most of this. Once our fund raising is complete this year we will take our day off together to go and visit Eileen at Operation Santa to see what they require, then go and buy what they need with the money we raise.
I enjoy coming to the gym and I am getting to know more people there now. I do feel loads better when coming regularly. I have lost a stone up to now and I know it definitely makes me feel better mentally and physically.
Please sponsor us at …
https://www.gofundme.com/f/cycling-for-santa-30k-a-day-everyday-in-november?sharetype=teams&member=3118138&utm_medium=copy_link&utm_source=customer&utm_campaign=p_na+share-sheet&rcid=374c67ed5a5e4e41b165227d76201da7
Craig
I joined the Portway gym to complete this charity challenge with Darren, however I have now decided to sign up for 3 months and I am Impressed with the facilities and how nice the people are there.
I am expecting my first child in February and I want to get to become fitter to be able to chase a baby around without a struggle! I also have a knee with no cartilage so low impact exercise is important to me. Once this challenge is over I will be looking to take on some spin classes as I have done these before and they have really helped me become fitter over the last 12 months.
Thank you for your support Portway.