Meet the Member: Ultramarathon runner Dinah shares her fitness story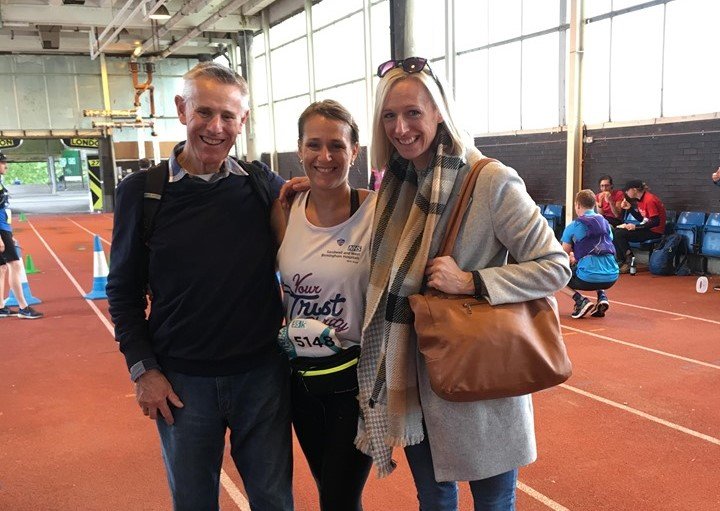 Haden Hill Leisure Centre member Dinah is an avid fitness class fan and decided on a whim to tackle the London 55km Ultramarathon! She answered a few of our questions and shared with us her inspiring fitness story:
What's your general fitness history?
I have always exercised, since secondary school days when it was a regular part of our curriculum! In the sixth form we were able to go to the local leisure centre and do "popmobility" – which I think began my love for group fitness classes! In my 20 years of regular exercise, SLT provides by far the best leisure centres I have used.
Is there a particular reason why you selected SLT and in particular Haden Hill? (do you use more than one SLT facility?)
I used to live on High Haden Road, so Haden Hill was a stone's throw from my house. I have three children and a busy job, so it is really convenient to be able to use other centres if I can't get to Haden Hill, but it is by far my favourite.
How does SLT meet your fitness needs and is there anything else you do fitness wise outside of the centre?
SLT has such a great range of fitness choices, the HHLC the best fitness timetable I have ever seen. Recently to prepare for the Ultra I had to focus on running outside, but I really missed the gym! The 4 hour Combatathon in July was great preparation for the Ultra!
What motivated you to run the London Ultra Marathon and how did you train for it?
I work for Sandwell and West Birmingham NHS Trust and the Trust Charity advertised the link on their Facebook page asking for volunteers. I had had a couple of glasses of prosecco and signed myself up one Sunday, and was fairly mortified the next day when the Fundraising manager contacted me directly – I decided whilst I could, I should, and raised over £1,300 for a great cause. Our Trust Charity supports vital services for over half a million people in Sandwell and West Birmingham.
What's your favourite workout?
No doubt – Les Mills Body Combat <3
How do you find the team and staff at the centres?
Amazing – all of them. I've bene going to Haden Hill since 2005, and I've seen so many come and go and so many stay too – in recent years the centre has such an amazing buzz and feel to it, it's really special. The Myzone screens are a great addition too.
What is your greatest fitness achievement?
Definitely the Ultra at the age of 47, my next goal is to get faster!
Any tips for people starting their own fitness journey or looking to take theirs to the next level?
Push yourself, I spent most of the three months preparing for the Ultra feeling fine one minute and then terrified the next, but I stuck to a training plan, and it was actually fine in the end, I literally skipped across the finish line after 36 miles!
If any, what social media channels do you follow SLT on and why?
Twitter, Facebook, Instagram, I definitely spend too much time on social media but particularly on Facebook there is a community feel to the Haden Hill stuff – we always tag each other in workouts and it's also great to follow if for some reason you aren't going to the gym through training or injury, you can keep in touch. The Haden Hill team also use the site to get feedback which is great – I feel as though they really listen to their customers and value them.