Meet the Member: Lee and Ben's amazing reunion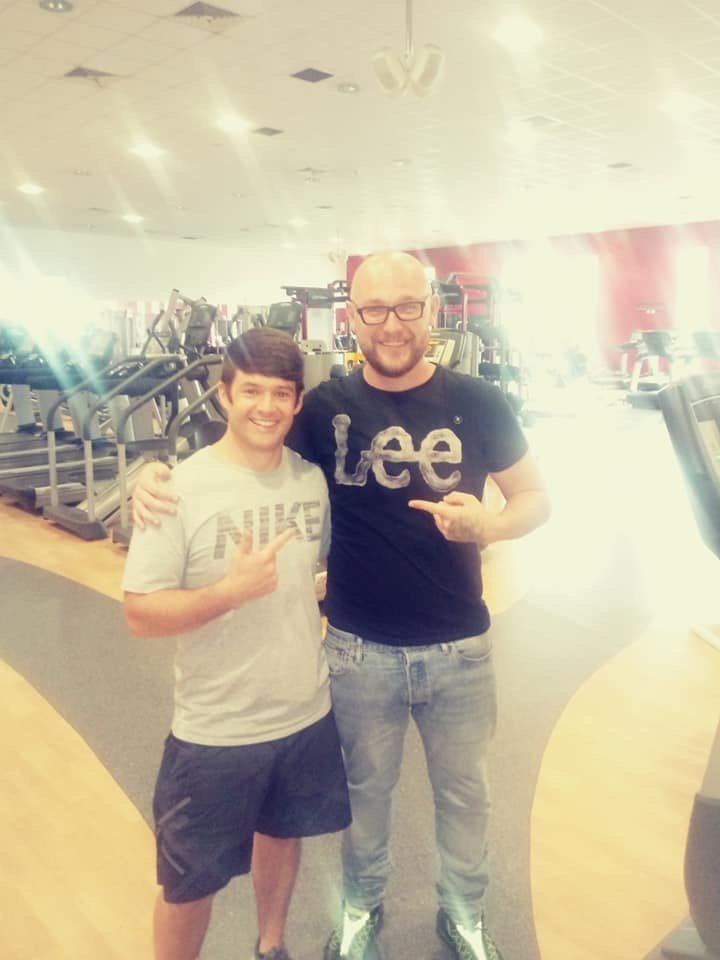 Lee Isherwood (age 29) couldn't remember who he was after hitting a parked car on Burton Road, whilst under the influence of alcohol. He was flung out on impact and in a coma for three weeks – but he's battling back to fitness and now walking again after regular rehabilitation workouts at Portway Lifestyle Centre.
"I wouldn't wish what I've gone through on my worst enemy, but it's my own fault for drinking and I'm trying to raise as much awareness as possible It's just not worth the risk and puts others in danger too. I had two passengers in the car, but they luckily walked away unharmed and I'm so glad that it was just me that got hurt. Apart from being grateful to be alive I'm so motivated to get well, as my three kids (two daughters now aged 7 and 3 plus a son aged 5) have lost out on so much and I'm putting myself through the pain barrier for them as much as me.

The doctors reckon I'll only get back about 80% of my total mobility, but I'm determined to prove them wrong. I hope to be able to drive again one day, get back to my former tarmacking job, as my old boss is keeping it open for me, and be able to play with the kids like any Dad would
My weekly visits to Portway have become an essential part of my recovery and I absolutely love it. It's been a really tough year, with lots of highs and lows, but week in, week out I see minor improvements. To start with I only had partial use of my right arm on that side, but the leg is stronger now too and I can walk on my own and my coordination and range of mobility is much better, plus I'm slowly getting my old confidence back.
Whilst the doctors didn't quite say I'd never walk again, because my head trauma was so severe they said it was all down to me and I'd have to re-teach my brain to function. The hydrotherapy pool at Portway got me moving again, but I wanted more, so it was onto the treadmill for my first few steps and now I'm doing step up and down exercises on the plate, basic weight lifts, roll outs and squats, etc, to improve my balance and core strength."
Lee was telling Wendy one of the instructors at Portway some details about his accident and injury.
The conversation went with Lee... 'my crash was on the main road by the school in Dudley'
Wendy - a red small Corsa? about 2 years ago?
Lee - Yes, I had a really bad car crash and I was told a fireman who lives nearby was doing CPR. I want to find him and thank him
Wendy - that was my other half, the fireman doing CPR!! I called the ambulance! we saw and heard it all that night.

Lee told Wendy he would love to meet Ben to say thank you and show him how he is recovering. As they are both members at Portway, on the 31st August this year they both visited the Centre for a gym session, Wendy was also present on the day and introduced them both to one another…
'you're Ben? The Ben that saved my life?' He shook Ben's hand and was overwhelmed with a 'big thank you!! '
It was very emotional for them both. They chatted for a good while and discussed what was happening with them both now. Upon leaving the Centre Ben said to partner Wendy that he was just amazed, and really didn't think Lee would be as well as he was. Ben added - Firefighters very rarely get to see the outcome of people they help at any incident, let alone those they don't think will make it!
Without Ben, Lee may not have been in the position he is today. Well done and Thank you Ben for doing such an amazing job as part of the emergency services team, helping to save lives like Lee's.