Meet the member- Jo makes the Portway connection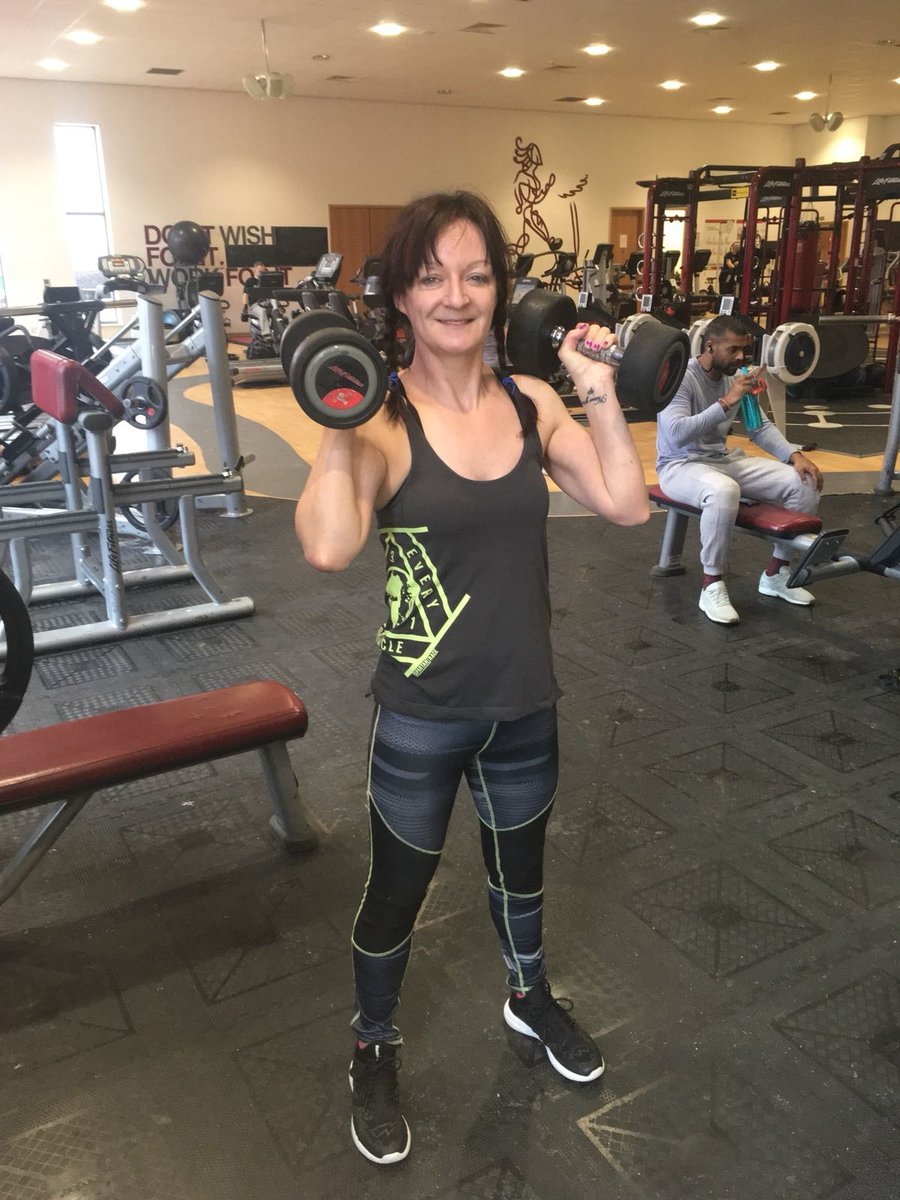 Our Marketing team caught up with Portway Lifestyle Centre One Card member Jo recently to learn why she loving working out with SLT.
What's your general fitness history ?
I began my fitness journey back in my childhood where I learnt how to swim before I could walk , swimming was always something I really enjoyed and swam for school , but I loved swimming in the sea and learnt how to surf but I doubt I could do that now, exercise in any shape or form was always in my blood, I'm always restless and need to expel the energy so it was a natural progression for me to get into exercise.
What gave you the prompt to join a gym ?
I'm not sure when the prompt came, I had gone to gyms on and off over the years but about 10 years ago I started to attend my nemesis of indoor cycling classes at Haden Hill (I hated it lol) before joining Portway Lifestyle Centre. I had stopped going swimming as the baths I used closed down and Haden Hill was suggested to me so I think that's where the initial prompt came from.
Is there a particular reason you selected SLT & in particular Portway ?
I attended Portway on its opening day , it was a remarkable centre that finally catered for ALL levels of fitness and ability, I was so impressed on the open day with the centre and it's vision that I signed up on the day. I attended the first day and have never looked back. I truly don't think I'll ever consider going to any other gym other than SLT as it offers me everything I need, I have 5 centre's to choose from (staffed gyms), the hours are perfect except the fact you are not open on Christmas day so I have to stand outside breathing heavily on the windows lol. Seriously though it gives me incredible choice, with my One Card membership I can go to any of the centre's so there's never any excuse not to go, I choose Portway for its convenience, its facilities and the staff.
How does SLT meet your fitness needs?
With the choice of five centre's to choose all my needs are met, from the swimming pools at Haden hill, Smethwick and Tipton to the hydro pool at Portway, it has all the equipment I need, from treadmills to all kinds of strength training machines, it's hours and convenience suit me and of course don't forgot the huge array of classes to choose from . Literally I could go every hour to a class somewhere within SLT.
Do you prefer gym sessions or fitness classes?
If I had been asked this question a couple of years ago I would have said classes, but about 18 months ago I had reached a plateau with my exercise regime and need to have a bit of a shake up, with the help of the instructors at portway I was introduced to the weights section and I've never looked back, incidentally I would highly recommend the weights to all women regardless of age or ability , my body certainly started to change when I started using weights, so now I use a combination of classes and the gym.
What are your regular fitness classes and how do they help you achieve your goals? Do you think fitness classes are suitable for all fitness levels ?
My regular classes are body combat, body pump and kettlebells, each has its own merits and have helped me maintain my fitness levels over the years, I love the energy of the classes , they always make me feel alive and toned, they have amazing music and instructors and you get the energy from everyone else,
I love body pump as it always challenges me and I'm constantly striving to go heavier, I adore body combat for its adrenaline and stress busting and I like mash up , kettlebells and HIIT just because it's fun to use equipment in the classes
I thinks it's very important to keep mixing it up as you can easily become complacent) I won't say bored as I'm never bored) and also your body gets used to the exercises and stops changing.
Certainly I think all fitness classes are suitable for all levels because there always alternative ways, fitness is always about being better than you were yesterday and not about being fitter than someone else, when you first join a class it can sometimes be intimidating but everyone started somewhere so you just start off with the lighter weights, the alternative moves and eventually your fitness levels will increase, I can't think of a single class that no one can do.
What do you think of the equipment at the centres & is there anything that you really like using?
There's plenty of equipment to choose from , though perhaps not always enough of it in the gym section, there's have been a few times when I've not been able to get any dumbells but overall the centers have plenty of cardio machines such as treadmills etc and they all very well maintained, I do like using the TRX and the smith machine but I think with the way fitness is changing that perhaps the weight section need increasing a bit as more and more people are now seeing the benefits of weight training
How do you find the team and staff at the centres?
Gosh what can I say about the staff? Without them I wouldn't be the person I am now, their encouragement, their professionalism , their knowledge, its so underestimated the importance of the staff at the gym but without them you would never achieve your goals, I wished I could name every single one of them because SLT employs some of the best staff. Everyone from reception to the gym crew are incredible, they are all so friendly and many have become actual friends, its community and the staff engage with all their customers, it makes walking into the center's a pleasure, I can't praise any of them enough for their dedication and hard work.
What do you enjoy about exercising?
Oh dear this will be a long one lol.
It's a way of life for me, an addiction. I live and breath it.
I love how walking out of the gym makes me feel, my muscles are screaming at me but also thanking me for being used rather than just pressing a button on a remote, the gym pushes me in a way no home workout would ever do, I'm constantly striving to be better than yesterday, I compete with no one other than myself and in each class I will push myself to the extreme until I feel I can't push anymore, if that sounds like torture it is but the feeling of achievement is like nothing else, it fills you with confidence and I couldn't give that feeling up for anything else.
I defiantly have a love affair with the gym, its always there, we never argue and it doesn't care what I look like , its therapy for me, going to the gum gives me the confidence that I can overcome obstacles outside of the gym . I genuinely have fun so it never feels life a chore e to me, I never have to force myself to go, I (in fact I've walked in the snow to get there) its a lifestyle for me but a social thing as well. It's that connection with likeminded people , it's a mental workout as well. It makes me more focused and I'm always paying attention to how I'm performing, I'm never interested in what anyone else is doing as I tend to zone out when im in the gym, I feel unstoppable when I'm in my zone and if I've had a bad day and need something to pick me up then a great workout turns things around.
Do you find there are advantages of exercising in a group environment?
Definitely I think working out with other people helps to motivate you and gives more confidence.
I do like the camaraderie that comes with the fitness community, I like being with people who have that same passion like me and how we come together to support each other, I love hearing about other people fitness goals and how we can all support and help each other in our own personal goals, going to the classes bonds you with likeminded people so again i will say its social therapy and mental stimulation as well, you need to exercise your mind as well as your body and you can't get that it you just stick headphones in (though when running on a treadmill you don't really want to be talking at the same time)
What motivates you to keep coming?
What motivates me is the adrenaline and how it makes me feel, I feel energized and ready to take on the world , there's this pure rush of endorphins when I'm there, I feel my skin tingle (and no that's not from pre work out)
I get restless if I go two days without going to the gym, exercise is my time, it calms me when life gets crazy and if I don't look after myself then who will. Knowing how great I'm going feel afterwards is a reason I go. Another drive is that even though I know I'm fairly fit I'm still not where I want to be but that's great because I never want to lose my drive to get better.
How have you found Myzone ? Would you recommend it to others ?
I love tracking my workouts with MyZone, its very addictive but also the habit of tracking my exercise and comparing them helps to keep me focused on hard I train, I've found MyZone more addictive than any other fitness trackers because its geared more towards your actual workout. I love the challenges that are set by the center and the community spirit of it, seeing it on the screens in the gym and classes makes you push yourself harder , I think it's a fabulous addiction to SLT.
Could you offer any tips for people looking to start a similar fitness journey ?
Make exercise fun and don't see it as a chore, don't compare yourself to everyone else, think about what you want to achieve and start off steady but focused.
Accept your failures and set backs but never give up, never cheat and don't take shortcuts, only you can put in the hard work, there is no overnight success and you'll to need to commit for the long run but the rewards are worth it. Don't be afraid of asking anyone for their help or advice, we all started at the bottom, set yourself goals, don't be hard on yourself either if you fail, just pick yourself up and try again, once you get the bug it will run through your veins and you too will be standing outside the gym on Christmas day looking inside and wishing you were there.
If any, what social media channels do you follow SLT on & why ?
I follow SLT on Twitter , Instagram and of course Facebook , Facebook I use the most because I know most of my friends use it and I like to share my workout and experiences on there. I know sometime it can be irritating that I post my check in so often but I truly don't care lol , to me sharing the fact I'm at portway is not bragging that I'm am there rather it's a form of communication with gym buddies and with the centre as well . I like Instagram for the photos which is where most people share them , I don't tweet very often as you can see I'm rarely use few words to say anything . I find Facebook the most useful social media for checking timetable changes and class cancellations if any and of course it's fabulous way of sharing a wonderful experience you have had at the centre such as the VIP 'the wall' launch .