Meet the member - Helen who has undergone massive body transformation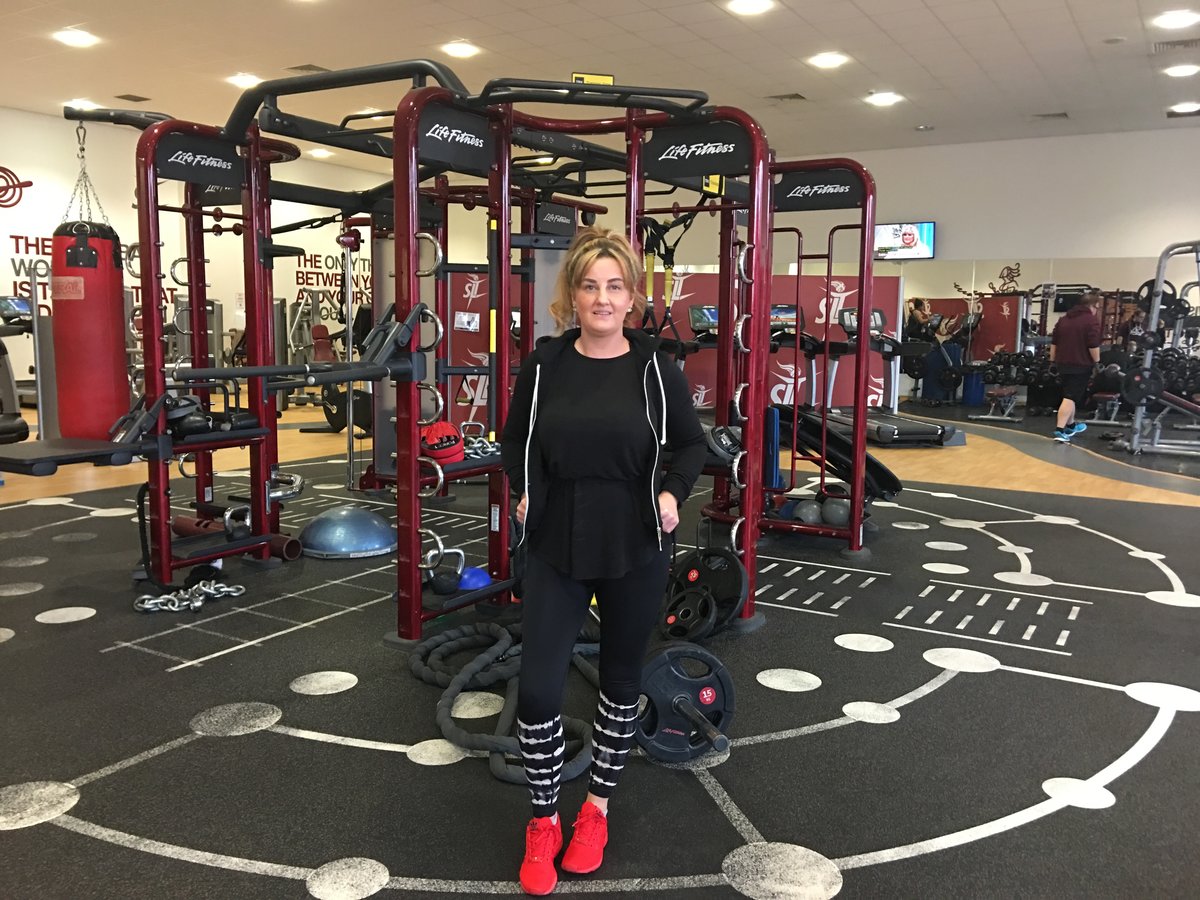 Meet One Card member Helen Coles. Helen from Brierley Hill, who works in a local hospital, has undergone a massive health & body transformation whilst being a member with SLT. We caught up with Helen before one of her regular sessions.
What's your general fitness history ?
I had never used a gym before and was over-weight, I decided to use Slimmers World but my weight eventually stopped dropping off. My best friend who used SLT introduced me to the gym from them I have been pretty much hooked.
What gave you the prompt to join a gym ?
At first I didn't want to join as I thought I would never keep it up, I paid for a month for every class I used and made sure I wanted to be a member. The membership worked out so much more cheaper than me paying "pay as you go". There was no join up fee at the time because it was winter and they was doing a deal.
Is there a particular reason you selected SLT & in particular Haden Hill & Portway ?
SLT made me feel very welcome and there was no two people the same, everyone's fitness level was different but i just seemed to fit right in. Haden Hill is the closest centre to me but sometimes due to the times of classes I will drive that extra 20 minutes to go to Portway. I also like that you don't have to pre booked for classes and there seems to be a lot of classes to choose from which is great.
How does SLT meet your fitness needs?
I was clueless at first I knew nothing at all about fitness, to begin with I would just do classes and eventually became hooked on indoor cycling classes - sometimes I would do it twice a day. If I was tired I would do an easier class but when I had a weekend off I would go and do intense classes. This gym just seems to give you a variety of different fitness levels.
Do you prefer gym sessions or fitness classes?
I used to prefer gym classes but then I was introduced to Kirk and Matt (who both worked at Haden Hill at the time) they gave me 1-1 classes in the gym and taught me so much, not just how to use machines and lift weights but all about my eating habits. I always say I have a big thanks to these two for who I am today. Unfortunately after losing weight I became addicted to scales and would do constant cardio, they kicked this habit for me. These lads train you like the military which I needed as I hate being told what to do basically I had to shut up and put up haha they need a medal for putting up with my moaning.
What are your regular fitness classes and how do they help you achieve your goals? Do you think fitness classes are suitable for all fitness levels ?
Now that I am trying to gain muscle to look more curvy I use the gym more often but now I do Les Mils classes, Grit and Sprint are the most difficult classes I have done but I just feel great after them. Although I feel like i might actually pass out they seem to work my whole body and the instructors just push you so hard (fitness isn't meant to be easy) so being pushed to your limits is the motivation you need.. that we all need :-)
What do you think of the equipment at the centres & is there anything that you really like using?
The equipment in the gym suits me fine what ever I need it's there. Luckily for me the times I go it's not busy so they are always available or there are loads of weights so we can all share. My favourite machine is leg press I'm currently pushing 160 (watch me not being able to do this when asked) I have a video of proof. I know it's not equipment but I love the music they play at Haden Hill the other day I was singing my head off not realising an old man was listening to me!
How do you find the team and staff at the centres?
All they staff are friendly and very helpful at both centres.
Do you find there are advantages of exercising in a group environment?
Exercising is good for the body but it has done me wonders for my depression and body dysmorphia. I feel so much more confident in myself and I get so many compliments. I just love it !
What motivates you to keep coming?
My best friend uses the gyms to so it's good to go and motivate each other. Fitness can be enjoyable on your own but it's good to have group of friends around you to who will push you when you feel like giving up or having time off. Everybody had off days but don't let that you stop you going, take a day off and then get back into it.
If any, what social media channels do you follow SLT on & why ?
I follow SLT on twitter as I'm not on Facebook I always tweet them and they always reply. I like to see what's new and what's going on and social media is the easiest and quickest way to find this.