Man walks for first time in 9-years at Portway Lifestyle Centre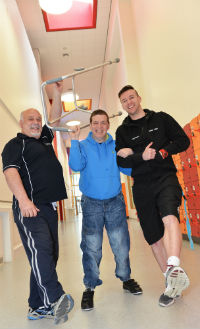 Before Shaun Stretton began using the facilities at Portway Lifestyle Centre - which officially opened on June 3 - he had not walked for nine years.
When Shaun first started accessing the Adults Services provision at the centre, he set himself a goal to walk down the centre's 100 metre main corridor.
With the help of his support workers from Sandwell Council and gym staff from Sandwell Leisure Trust, Shaun has achieved his goal.
Shaun's success was celebrated at the centre's official opening ceremony as he walked up to the Mayor to help her unveil the plaque.
Shaun Stretton said: "I haven't been standing in nine years. I want to get back on my legs again to start off walking again."
Adults Services Support Worker, Andy Belcher, said: "It has been a pleasure to work with Shaun and see him reach his goal and for him to be able to beam with pleasure."
Adults Services Support Worker, Erica Scott, said: "I have had the opportunity to enable and learn from Shaun and realise his true grit and determination to be able to walk again."
Shaun's gym trainer, Scott Parish from Sandwell Leisure Trust, said: "He's done really well, he's walked, I think, now around about 110 metres! And before it was with a frame, but now he's walking pretty much by himself."
Watch the beginning of Shaun's success on this video:
For more information please contact Portway Lifestyle Centre on 0300 012 0121.