Looking Fitter at Smethwick Swimming Centre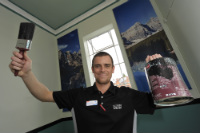 The centre, located on Thimblemill Road, has been redecorated inside; including the stairwell leading to the gym and the foyer leading into the changing rooms.
Car parking bays in front of the centre (including the disabled bays) have also been repainted which has significantly improved parking.
Kevin Daly, Site Fitness Co-ordinator said: "We are always listening to customer feedback and thinking of ways to improve our facilities.

"Since making the improvements we've already had lots of positive comments from customers that the centre is looking smarter and fresher.

"The decoration work has brought these parts of the centre into line with the other improvements we've already made."

Contact Smethwick Swimming Centre on 0300 012 0121.