Looking fit at Smethwick Swimming Centre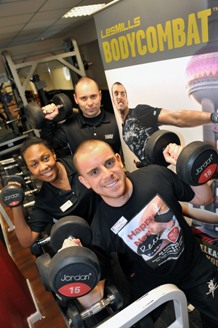 Following customer feedback, the fitness crew have made some alterations to help members get the most from their centre.
The team has
increased the number of free weights
in the three-section gym. A
larger matted area
has also been introduced to this area which also sees
a new layout
to accommodate a
new abdominal bench
which will be arriving at the centre soon.
The centre's fitness class programme has also been expanded. The team has introduced
more daytime ladies only aqua-fit classes
;
a new evening aqua-fit class
on a Thursday; and
new Bodycombat classes
on Tuesday evenings and Sunday mornings.
Site Fitness Co-ordinator Kevin Daly said: "The improvements we have made means that our dumbbell allocation has been increased and our self plate loading Smith machine could also be placed into a more suitable and accessible position.
"The abdominal bench, which will be added shortly, also means a better range of equipment for training the core stability area can be utilised along with our upper functional training area.
"In addition to members' weekly training plans we now offer Bodycombat which is a great class to tone, build endurance, lose weight and also have fun while exercising."
For more information on Smethwick Swimming Centre visit our
centre page
.
To arrange a tour of the centre please contact the team on
0300 012 0121.